Favre Fades Away, Colt Feels Strong

By
.(JavaScript must be enabled to view this email address)
Friday - August 05, 2009
|
Share

Del.icio.us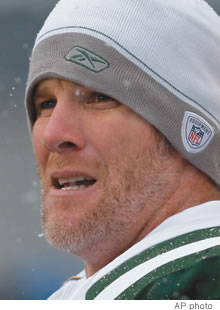 Brett Favre: Enough is enough
Brett Favre's decision to remain retired appears solid, but so did his two previous retirements. Interesting that it's not the surgically repaired shoulder that kept him from becoming a Viking, but rather his general physical and mental state.
The Minnesota front office and head coach Brad Childress have to feel a bit sheepish about spending so much time and energy trying to coax the fickle QB into a purple jersey.
But I wouldn't celebrate too much if I were Tavaris Jackson or Sage Rosenfels. It was obvious the Vikings were prepared to hand over the reins to a 39-year-old player, and they can't be terribly pleased with who they have. I expect Childress and company to be on the lookout for a signal caller they can believe in.

Former Warrior and current Washington Redskin QB Colt Brennan is looking forward to being healthy in training camp.
"It just gives me a confidence level," Brennan says, "not having to worry about my hip or my knee, and knowing I can go out and make plays. The pre-season games are gonna be really important for me."
Brennan concedes that Jason Campbell has the strongest arm of the Redskin QBs, but on the subject of comparative accuracy, Brennan says, "I'm not trying to call anybody out here, but I've never been around a quarterback anywhere that was more accurate than me. And I've never seen one throw a better spiral either."
The Brennan swagger is back!

A couple of UH coaches are spending some time in NFL camps. DL coach Dave Aranda is with the Denver Broncos, and DB coach Rich Miano has spent some time with the Cincinnati Bengals as a guest of part-owner Dr. Edison Miyawaki.
"It's a great opportunity for professional development," says Miano. "The Bengals have some great assistants, and it'll be good to learn some of their drills and techniques. It's sort of continuing education for us." Both Aranda and Miano will be back well before the start of fall camp Aug. 6.

Watching Tiger Woods during The Open Championship at Turnberry led to some lively discussion between my family members during our vacation in New York. My father was disturbed by Tiger's use of profanity as well as club slamming during his poor play that led to missing the cut. I pointed out that Tiger is far from alone in his reactions but is surrounded by cameras and directional microphones that pick up his every utterance.
My dad is old school. He believes that with fame and money comes an obligation to adhere to a higher standard. That may not be realistic at all times during the heat of competition.
Tiger is unfailingly gracious in his post-play interviews once he's had a few minutes to regain his cool.
One thing is pretty obvious: Tiger is not a good loser, and don't expect that to change anytime soon.

If you'd like to see some of Hawaii's best trivia players in action, head down to the Final Four of the ESPN 1420 AM Napa Auto Parts Ultimate Sports Trivia Challenge at Buffalo Wild Wings in Discovery Bay Aug. 6 at 5 p.m. A celebrity challenge will follow and admission is free. You may not know at which school Gary Beban won the Heisman Trophy, but you'll be around a lot of people who do!
Most Recent Comment(s):