Flying with the Angels is a stomach-turner

By
.(JavaScript must be enabled to view this email address)
Friday - October 19, 2007
|
Share

Del.icio.us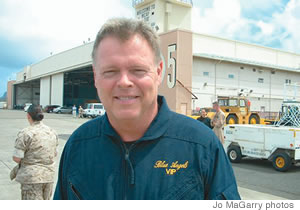 The columnist gets ready to fly
So you want to be a Top Gun, do you? When the chance came to take a ride in a Blue Angels plane, I jumped on it. Prior to every Blue Angels air show, three media types are selected to fly in a two-seater FA-18 Hornet jet fighter. The idea is to give the media an appreciation for what these aircraft and pilots are capable of.
A week ago I headed out to the Kaneohe Marine base to meet my group and be briefed. KITV's Shawn Ching, Miss Hawaii Pili Gaison and yours truly were the flyers; KHNL's Diane Ako and Clear Channel's Damien Balinowski were alternates. Several things were stressed in the briefing: This is a high-risk activity, every safety precaution possible is in place,there are backups to the backups; the pilot is gifted and uber competent, and would we please sign the waiver absolving the military in case we are killed? We were further told that we'd likely lose consciousness when we pulled big "G's" and we were likely to vomit; air-sickness bags would be provided in abundance.Anybody want out? Oh, and don't touch the yellow and black handles, especially the one between your legs - that's the ejection seat lever.
Shawn was the first rider. I watched the low-altitude takeoff when the jet rises to about 15 feet, picks up speed and then goes vertical.We didn't see the jet again until right before it landed. Shawn came off sweat-soaked and shaky.
"Really intense,"was his description.
I was next. The crew chief helped me into the seat right behind the pilot.You're strapped in at the calf, thigh, lap, chest and shoulder. Guys in the electric chair are not strapped in this securely. Helmet is on, complete with communication to the pilot and to the control tower.Right before I got into the jet, I'd asked one of the bystanders if he'd ever been up. "Yeah," he said. "When I wasn't unconscious, I was throwing up."
We taxied out and the pilot, Maj. Nathan "Corky" Miller, asked if I was ready. Corky had been the tail-hook champion in his carrier group, had 1,600 hours in the jet and looked like a recruiting poster. He was terrific; I wasn't at all worried about him.
The takeoff was unbelievable,way beyond any thrill ride you can imagine.We started the maneuvers easy at first, then the high G stuff started. After I regained consciousness we headed into diamond rolls, then the inverted loops, which led to flying upside down.
By now, I'm sweating and nauseous,but not puking.After the second high G move, which got to 6 G's, I was out again for a few seconds.
"Anything else you want to do or avoid?" Miller asked.
"Yeah,let's skip the rest of the high G stuff," I said.
After only one more (I finally correctly executed the "hook," a breathing maneuver to stop the blood rushing from your head, and stayed conscious) we landed smoothly. We'd been in the air for 45 minutes and it was 40 minutes before I could drive home.
A once-in-a-lifetime experience? I promise you that.
It goes without saying that I now have a seriously increased appreciation for our highly skilled pilots. Maj. Matt Collins, Lt. Strickland, Maj. Miller, and the crew chiefs - you guys are true pros.
Most Recent Comment(s):