Footballs will fly in the New Mexico State game

By
.(JavaScript must be enabled to view this email address)
Friday - October 26, 2007
|
Share

Del.icio.us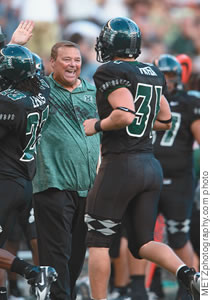 UH defensive co-coordinator Greg McMackin
This Saturday's homecoming game between Hawaii and New Mexico State could prove to be the longest of the season. Both teams feature high-powered passing offenses, and it's reasonable to expect a combined total of more than 100 passes. UH defensive co-coordinator Greg McMackin is extremely familiar with the Aggies' offense, having coached at Texas Tech, where they run the same system.
"People think it is like our offense," says McMackin. "It's quite different. They use a more horizontal game with a lot of crossing patterns and the routes are predetermined."
Asked if New Mexico State's 58-0 blowout loss at the hands of Boise State meant the Broncos had found a magic defense for NMSU, McMackin chuckled. "It's more that Chase Holbrook was injured. He makes that offense go. And Holbrook is healthy now, which means we'll have our work cut out for us."
NMSU also has one of the league's most explosive receivers in Chris Williams.
* If you're a UH alum, tickets for the football game and both wahine volleyball matches can be had on a two-for-one basis.
* You're seeing one of the craziest college football seasons in years, with multiple upsets of top 10 teams almost every weekend. Last week it was dangerous to be in the south. Both South Florida and South Carolina were upset by unranked teams. Ohio State is No. 1 and Boston College No. 2 in the BCS poll — BCS may as well stand for Big Confusing System. Hawaii is No. 17 in the BCS, 14 in the coaches' and Harris polls, and 16 in the AP. The No. 14 rankings are the highest ever for a UH football team.
* Hard to imagine that it's Boston and Colorado in the World Series. The Red Sox have the marquee lineup, two of the best pitchers in post-season history and plenty of power.
The Rockies have Todd Helton, Matt Holliday and 23 guys nobody ever heard of. And yet who can bet against a team that has won 21 of its last 22 games? I'm going with the Rockies in seven.
* As if New England Patriots QB Tom Brady needed an actual receiving corps, Randy Moss and Wes Welker are leading Brady to some mind-boggling numbers; he is on track to have the best statistical season of all time. And it's not like the Patriots don't play good defense.
Yes, I can see it now. Super Bowl Sunday — the Patriots and the New York Football Giants with that other Manning at quarterback.
Most Recent Comment(s):