Fostering The UH Hoops Family

By
.(JavaScript must be enabled to view this email address)
Friday - March 05, 2005
|
Share

Del.icio.us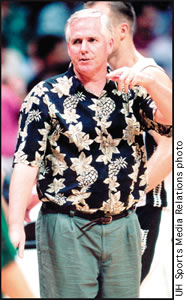 For Jackson Wheeler, communication
is the key to his success
"It's all about relationships and feeding the network."
The beginning of a Tony Robbins seminar? No, just University of Hawaii assistant basketball coach Jackson Wheeler talking about his primary responsibility, the recruitment of players to the Rainbow Warrior program.
The lifeblood of any college program is recruiting; coaches who excel at it have guaranteed lifetime employment. Wheeler, 46, is in his 15th year at UH and has brought in more than 60 players in that time, including standouts such as Anthony Carter, Trevor Ruffin, Michael Kuebler and Julian Sensley. The pitch made by Wheeler emphasizes the chance to play in a stable environment and to become part of a family. Ironically, they were elements often absent in his own life.
Wheeler was raised in a dysfunctional home by alcoholic parents in the Californian central coast town of Morro Bay. After his parents divorced, he and a brother went to live with his father. Two years later, when Wheeler was 12, his father was sent to prison. Rather than return to his mother,Wheeler told a judge he'd rather go to foster care, and an arrangement was made that saw him taken in by the family of one of his friends. After finishing high school as the best player on the State 1A championship team, Wheeler played in college at Marymount in Kansas where he met and fell in love with Cindy. They married right after graduation, and Wheeler had for the first time both stability and a family of his own. He took a head coaching job at a junior college for three years and then an assistant job at Saint Louis University when tragedy struck again.
While driving to play bingo in St. Louis, Cindy and her grandmother were killed by a drunk driver. "That was an unbelievably tough time for me," Wheeler says. "I wanted to get away from St. Louis, and I met Riley and figured I'd start again in Hawaii."
Wheeler threw himself into work, became a central part of the basketball ohana and in time, married Lael Lee.
His life experiences had given him sensitivity and he had plenty of personality and persistence, the two essentials in recruiting. "I'm relentless when I decide we need a particular player," says Wheeler. "I get to know everybody around him. Coaches, counselors, scouts and, of course, the family."
While Wheeler appears laid back, he's intense about work. "I make 100-200 calls every week," admits Wheeler. "You gotta stay in touch."Many of the weekly calls go out to former players; once in the family, they are in it for life.
In one of the ironies of his job, the extremely social Wheeler spends tremendous amounts of time alone.
It's not unusual for him to arrive on the Mainland and drive four hours each way to watch a 90-minute practice and talk to a recruit for 10 minutes.
"They have to see you, and to know you care," says Wheeler. When the team plane lands on the Mainland, Wheeler goes his own way, car keys and cell phone in hand. Doesn't he hate to miss so many of the games? "It's not so bad," he says. "It's important for the program, and when it's over I get to go back to Hawaii."
Most Recent Comment(s):
Commenting is not available in this weblog entry.