Frash is thrashing opposing pitchers

By
.(JavaScript must be enabled to view this email address)
Friday - April 06, 2007
|
Share

Del.icio.us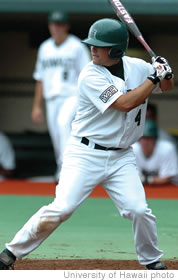 Justin Frash: born to hit
Remember the old game show I've Got a Secret? Three contestants would all claim to be one person, and the panelists each got to ask questions to try to determine which contestant actually had compiled the listed achievements.
If the panel had to identify which person was this year's Hawaii Rainbow third baseman, Justin Frash would have an excellent chance to fool them. He just doesn't look like a big time college baseball player. While listed at 5 feet 10 inches and 190 pounds, Frash looks shorter and heavier. Add to that a baby face and you'd just as easily believe you're looking at a high school junior who plays for the chess club.
Until you watch him swing a bat. Rarely do you see a player for whom the bat seems so completely an extension of his arms. There is a fluidity and grace to his swing that stands out at any level.
Dig a little deeper, and you find that this man was born to play baseball. His father, Roger, was drafted right behind Darryl Strawberry by the New York Mets, and coached his son at Oxnard Community College in California. His uncle was a serious ballplayer. His cousin, Josh Towers, was a starting pitcher last year for the Toronto Blue Jays. He is from a hardcore baseball clan.Last year as a junior, Frash led the team in hitting with a .359 average, was second in RBIs and third in home runs.He was selected to the all-Rainbow baseball tournament, all-WAC tournament and was named to the NCAA all-Regional team.
This year he's hitting .344 and, with a team leading 29 walks, has increased his on base percentage to .500.
He hardly seems surprised or satisfied."I've always been able to hit," says Frash. "I ought to, because I've had great coaching."
He's had his dad working with him, and now he works with hitting coach Keith Komeiji."It's really amazing,"offers Frash."Coach Meij and my dad have the same philosophy. Keep your hands inside the ball, and keep the barrel in the middle as long as possible, and go with the pitch Coach Meij can watch me and tell if I'm out of sync, and how to fix it," says Frash. "He's better than anyone because he sees me every day."
Asked about the stepladder of high school, junior college and Division I, Frash has an interesting perspective.
"High school to J.C. was huge,"he says."The pitching, the speed, everything. But Division I wasn't that big a change from J.C."
One of the things Frash enjoys is the atmosphere around the program at UH, which comes from the head coach. "Coach Trap is a laid-back guy, but he'll get in your face if necessary," says Frash. "But he's always teaching, and he sees so much. He's a great teacher."
Frash recognizes that as a senior he is one of the leaders on the team. "There's a lot of guys that set the tone," he says,"Ian (Harrington), Jon (Hee), Tyler Davis, Mark Rodrigues, Eli Christianson and me. The young guys have good role models."
Coach Trapasso appreciates what Frash has brought to the program. "He's a great kid with the right approach to the game,"says Trapasso. "He's exactly what you want for your program."
Baseball players are notoriously superstitious, but Frash admits to only one. "John Hee and I go to the Makiki Inn for a barbecue chicken plate every Friday," says Frash. "We wouldn't miss it."
Frash is bullish on his outlook for the rest of the season.
"We'll go as far as our team chemistry will take us,"says Frash."We've got to stay strong all nine innings, and we'll be fine."
Most Recent Comment(s):