From Fighting To Physics

By
.(JavaScript must be enabled to view this email address)
Friday - October 21, 2005
|
Share

Del.icio.us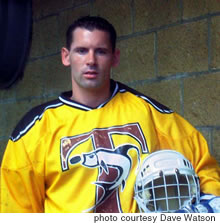 Don't pick a fight with this science teacher
What might a professional hockey player do after retirement from the ice?
Bouncer in a bar?
Bodyguard?
How about teaching science in high school while working towards a Ph.D. in science education.
That is exactly the path taken by Dave Watson, 29, a science teacher at Damien Memorial High. "I never expected I'd be teaching," says Watson. "I thought I'd play hockey in Europe for 12 or 15 years."
Like many youngsters in the small, working class town of Highland Mills, N.Y., Watson spent his winters on frozen ponds with a hockey stick in hand.
"It would freeze up in November and stay that way until March," he says. "We'd play hockey all day."
Watson went off to Connecticut College where he played hockey and ran track while majoring in environmental science, and it was there that the notion of an academic career was first introduced.
"I got a job at the New York Military Academy teaching summer school and I liked it," says Watson. "I taught five subjects, was done at noon and could spend the rest of the day working out for hockey."
But after college Watson pursued the dream, playing in the Western Professional Hockey League, one of the toughest in the minor leagues. And that suited Watson just fine.
"I was the fighter, I played defense and some forward, but they signed me on to fight," says Watson.
It's well known that minor league hockey is a blood sport, and it began to take a toll on Watson's body. While a member of the Amarillo Rattlers in 2000- 2001, Watson took stock of his injuries.
"The bursar sacs in both elbows were ruptured, I had multiple shoulder separations, and I suffered from post concussion syndrome, " says Watson. "I still have three or four of my own teeth."
Forced to change course, Watson decided to pursue his love of science.
"Our country is lagging way behind others in science education. We need to turn that around," he says.
Watson has discovered ways to incorporate his sports background into his teaching. At all-male Damien, Watson has hit on a useful tool. "Boys are kinesthetic learners - they absorb and retain better by active participation," says Watson.
A recent class was held at the Ice Palace where his students laced up skates to learn Newton's Laws of Motion.
"You push a skater and he keeps going on the frictionless ice until he hits the boards," says Watson. "That's Newton's first law - an object in motion remains in motion unless acted upon. Participation makes it easily learned - and fun."
Watson also uses the football field and trips to the water park to demonstrate certain scientific principles. Future goal?
"Someday I want to start my own school specializing in high quality science education," Watson says.
Most Recent Comment(s):