Good Fit For Brown In L.A.?

By
.(JavaScript must be enabled to view this email address)
Friday - June 01, 2011
|
Share

Del.icio.us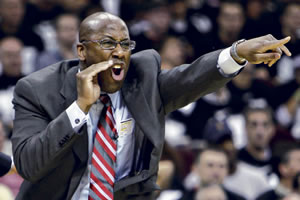 Mike Brown will again be coaching a superstar. AP photo
Much of Laker nation seemed taken aback by the selection of Mike Brown as the next head coach, but it may not be a bad fit.
Brown has a reputation as a defensive specialist. In 2000 he became an assistant to Gregg Popovich with the San Antonio Spurs. After a championship season in 2003, Brown joined Rick Carlisle's staff at Indiana, where the Pacers enjoyed consecutive playoff appearances, including a trip to the Eastern Conference Finals in 2004. In 2005, he was hired by the Cleveland Cavaliers becoming, at 35, the second youngest head coach in the league. And Brown was undeniably successful in Cleveland. Of course he had LeBron James, but precious little else. He won 67 percent of his games and only once failed to win 50 games. In 2007 he took the Cavs to the NBA finals.
He is possessed of an even temperament and should provide stability to a Lakers team that had so called "trust" issues this season. And Kobe Bryant admitted the Lakers needed to be better on defense.
Obviously, the triangle offense will pass into history, but getting along with Bryant will be of paramount importance. You'd think anyone who could deal with LeBron should be able to work with Kobe.
Will he bring an up-tempo feel to the offense? That remains to be seen.
* There are few situations that give as clear a picture of a coach's personality and philosophy as the one that arose in April with UH basketball. After receiving an inquiry about taking his team to China and Japan, head coach Gib Arnold looked around, saw a down economy, realized he couldn't count on state or university money, didn't have any on hand, and said, "Absolutely, we're coming!"
And so it has come to pass.
Already the program has raised more than half of the necessary funds, all from private sources, and expects to have all the money shortly.
There is a huge upside to this trip. From a basketball standpoint, incoming players who enroll in summer school can participate, and the team is allowed 10 days of practice prior to leaving. They will play six games against international competition. That's a wonderful head start for the season. From a long-term athletic department outlook, this will help build relationships in Asia, and many people believe that represents an incredible opportunity for the future with recruiting possibilities in several sports.
As Coach Arnold said, "China has millions of basketball players. Right now they are not playing outside of China, but someday they will, and we want to be ready when they are."
Some coaches might have said, "Thanks but we can't afford the trip." Arnold sees things differently. The philosophy could be stated along these lines: All things are possible, and it's better to ask forgiveness than permission.
Most Recent Comment(s):