Handicapping WAC Football Teams

By
.(JavaScript must be enabled to view this email address)
Friday - July 15, 2009
|
Share

Del.icio.us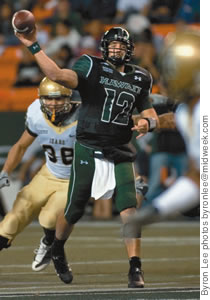 Hawaii's fortunes this season depend on the improved play of QB Greg Alexander
It's time for my annual WAC preview. Like most hardcore football fans, I'm ready for the season to begin. Obviously, much can change between now and September - injuries and team chemistry are impossible to predict, but talent levels and schedules are easier to decipher.
Here goes: 1) Boise State. This will be one of the truly outstanding Bronco offensive units. QB Kellen Moore was as good as any freshman signal caller in the country, and he'll be better this year. RB Jeremy Avery is small but explosive, WR Austin Pettis will have a breakout year, and the defense will be rock solid with the best back end in the conference. Their toughest game will be a non-conference tilt at Tulsa. They could be back in a BCS bowl game. 2) Nevada. QB Colin Kaepernick and RB Vai Tua will pace the offense. They'll control the ball and score points, but the receivers are relatively inexperienced.
The defense returns seven starters and should be really strong up front. But what most helps the Wolfpack is the schedule. Except for Boise State all their tough conference games are at home - La Tech, Fresno State and Hawaii. If they can avoid starting 0-3 in non-conference, the Pack could be pretty good. 3) Louisiana Tech. Head coach Derek Dooley finally has what he's been looking for: a big, nasty offensive line that will allow the Bulldogs to pound the football. QB Ross Jenkins is not a great passer, but he won't be asked to do much but hand off to RB Daniel Porter. The defensive line returns intact, but the big question will be if the Bulldogs can stop their opponents from throwing. If the answer is yes, La Tech will play in its second straight bowl game. 4) Hawaii.
This is higher than most are picking the Warriors, but the offense will surprise folks. QB Greg Alexander will look like a different player with a year under his belt, the O line led by John Estes will be much better, and this is the fastest group of receivers UH has ever had. RBs Inoke Funaki and Leon Wright-Jackson will provide some balance. The bigger question is on defense, where only two starters return, but if you need to break in new players, better on that side. It will help a ton if Blaze Soares can come back healthy. Road games at Nevada and San Jose State will be critical. 5) Fresno State. The big issue is QB, where Ryan Colburn is slated to start. RBs Ryan Matthews and Lonyae Miller are very good, but they'll have to run inside because the tackles are big but slow.
The strength should be on defense, where eight starters return including three of the front four and all three LBs. The Bulldogs better start quickly lest they go 1-3, because they play at Wisconsin, Boise State and at Cincinnati all in a row. 6) San Jose State.All five starters are back on the O line, but QB Kyle Reed can be rattled and the other skill guys are largely unproven. The defense returns seven starters, including the Ihenacho boys, DE Carl and LB Duke. DT Adonis Davis is aptly named. The Spartans have a tough schedule with Fresno State, Boise State and La Tech on the road. 7) Utah State. By the time the Aggies get to conference play, they could be pretty beat up with road games at Utah, Texas A&M and BYU. The only sure win in conference appears to be at Idaho. QB Diondre Borel needs to stay healthy, as does RB Michael Smith. The defense returns seven starters but is undersized and vulnerable to the run. The Aggies may have to just outscore people if head coach Gary Anderson's first season is to be other than disastrous. 8) New Mexico State.
These Aggies have a new coach in DeWayne Walker and will have to find a new QB to replace Chase Holbrook. Most of the offense is new, and come to think of it, so is the defense. Five returning starters on each side and nary an all-conference-type player in the bunch. They do open with Idaho at home but may not win another WAC game.
9) Idaho. The Vandals are a perennial doormat, and for good reason. Their home field is an aircraft hangar, the facilities are atrocious and the campus is in the other Moscow. The problem starts at QB where Nathan Enderle completes just 44 percent of his passes. Only RB Deonte Jackson stands out, but he can't do it himself. Six starters return on defense and S Shiloh Keo could play for anyone in the league, but the talent level is too low to avoid the WAC cellar.
There you have it. Now if you could just move the season up to Aug. 1, we'd be all set.
Most Recent Comment(s):