Hitting The Road For The Team

By
.(JavaScript must be enabled to view this email address)
Friday - August 06, 2005
|
Share

Del.icio.us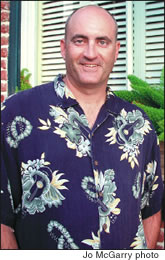 UH baseball head coach
Coach Mike Trapasso is busy
recruiting this summer
If University of Hawaii head baseball coach Mike Trapasso were a student, his "What I did this summer" essay would send him to top of the class.
Trapasso, 41, will enter his fifth season at UH this September. The Rainbows are coming off three consecutive winning seasons, the first time that has happened since 1993. That feat caught the attention of University of Oklahoma athletics director Joe Castiglione, who made Trapasso one of the finalists for the vacant OU job. That job eventually went to an OU assistant, but it reminded everyone in the college baseball world that coach Trap has something good happening in the islands.
"When a top 10 program calls, you owe it to yourself professionally to listen," Trapasso says. "If the offer had been made, our family would have had to make a decision. It was flattering to our program for me to be considered, but I'm very happy here and excited about our future."
Make no mistake, while Trapasso is happy about the direction of the program, he is far from content with present results.
"We're not there yet. We don't just want to make a regional," says Trapasso. "The goal is to be a perennial regional participant, because then anything can happen, and you can find your way to Omaha."
Trapasso played at a high level program, pitching for Oklahoma State in the mid-'80s.
"We went to the World Series both years I was at OSU," says Trapasso. "It was fabulous, and I want our players to experience that."
Ask the coach what needs to happen next, and he doesn't hesitate.
"We've got to be more consistent," Trapasso declares. "We've got a winning record against top 25 teams so we can compete. Now we've gotta repeat that level of play day after day."
Recruiting well is mother's milk for any successful college athletic program; an outstanding reputation for recruiting while an assistant at Georgia Tech is what got him the Hawaii job. At UH that means mining the best local talent and spending lots of time on the Mainland evaluating prospective student athletes.
"Because I was with the national team last summer, I wasn't able to help our staff as much going to the showcase events," says Trapasso. "I'm making up for it this summer."
Trapasso is spending roughly two of every three days on the road in these dog days, and relates that it takes a toll on family. "It's tough on (wife) Catherine. If she wasn't so good with (sons) Michael and Matthew, and running our home, this wouldn't work."
When queried about the type of player he seeks, Trapasso can name his best recruit.
"Mark Texeira. I almost didn't recruit him at Georgia Tech because I rated him a firstround pick. But I found out late that he was an outstanding student, and he had Scott Boras as an adviser," says Trapasso, "Naval Academy grad father and mother a teacher. Great family, terrific player. He ended up national freshman of the year and national player of the year as a sophomore." Texeira, now a member of the Texas Rangers, was recently named MVP of the All Star game. Those types of players are few and far between, and many sign right out of high school.
"We're shifting our focus in recruiting," states Trapasso. "When we arrived we needed everything, so we went heavily to the junior colleges. We're still 60-40 juco; I'm aiming to get us 75-25 high school. You can win 30-35 games with J.C. kids, but we need to be a 40 win program, and to do that you need the continuity you get with high school players."
As far as local recruiting goes, there have been some outstanding successes. "Isaac Omura is as good as it gets," enthuses Trapasso, "great kid, super work ethic, mentally tough. If you had 25 Isaac Omuras, you'd win a lot of games."
Asked about his upcoming schedule, Trap describes an August showcase event.
"Eight games a day, 8 a.m. 'til 9 or 10 at night," Trapasso says. "I love it. When you spot that player, the one other people haven't discovered, it's a great feeling."
So is he finished for this season and recruiting for the next?
"Not exactly. There's this lefthanded hitting outfielder we love, and another infielder that's fallen through the cracks," says Trapasso, getting more excited as he talks.
Excited about 12-14 hours on a splintered wooden bleacher? Now that's what you call a recruiter.
Most Recent Comment(s):
Commenting is not available in this weblog entry.