How the Warriors' Dan Kelly gets his kicks

By
.(JavaScript must be enabled to view this email address)
Friday - November 23, 2007
|
Share

Del.icio.us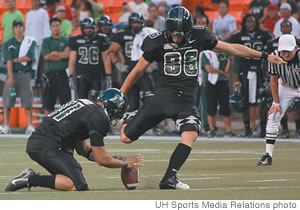 Dan Kelly has helped win two games with late kicks
There are times when being the place kicker on a football team looks like a pretty good gig. Come out to practice, kick a few balls and watch your teammates pound the salt out of each other.
But every once in a while, the kicker is the loneliest man on the planet with all his teams hopes riding on one swing of the leg. Such was the case last Friday when Hawaii place kicker Dan Kelly was called upon to save his team. Forty-five yards, clock running, undefeated season and BCS possibilities all on the line on national television with two options only: the hero or the goat.
The junior from California made the kick not once, but twice, because of the late, sneaky timeout being called by coaches everywhere. The first wobbled through; the second was a majestic, soaring monster of a kick that would have been good from 65 yards. Game over, and Kelly was a hero.
"The last 24 hours have been surreal," said Kelly last Sunday. "My phone is ringing constantly.It's hard to believe how many people watched the end of the game."
Kelly managed similar heroics at Louisiana Tech, where his 50-yarder allowed Hawaii to force overtime. But to Kelly, it's all in a day's work."That's why they gave me a scholarship,"said Kelly."That's just doing what's expected."
Perhaps, but anyone watching in Ruston or Reno could feel their own butterflies and were left to wonder what was going through Kelly's head. "I really don't feel nervous until after the kick," he said."Let's face it, if you're a kicker, this is what you dream about."
The polls have not been especially kind to either Hawaii or Boise State. Each dropped a spot in the human polls despite good wins. A glance at the BCS standings offer a glimmer of hope. Not only do some higher-rated teams play each other, but three conferences have three teams each ahead of the Warriors, and only two teams per conference can play in BCS games. The SEC features LSU, Georgia and Florida, the Big 12 has Kansas, Missouri and Oklahoma and the PAC 10 has Oregon, USC and Arizona State.
WAC commissioner Karl Benson isn't worried. "I still feel strongly that an undefeated Hawaii team will make the Top 12 comfortably,"said Benson.
A non-BCS conference participating in one of the BCS games receives $6 million. A WAC agreement provides that the participating team receives 70 percent of that total. That would mean if UH plays in the Sugar Bowl, the school will get a check for $4.2 million. That ought to cover some repairs on the lower campus.
* Anyone noticing that Tom Brady is on his way to the single greatest season of any NFL QB? Amazing what a couple of game-breaking receivers can do. It makes it all the more remarkable that Brady has three Super Bowl rings already, achieved with children of lesser gods.Someone may beat New England, but it's hard to imagine the way they're playing now. Look out Miami, that 1972 record is in serious jeopardy.
Most Recent Comment(s):