Is Favre Losing Sight Of The Prize?

By
.(JavaScript must be enabled to view this email address)
Friday - December 30, 2009
|
Share

Del.icio.us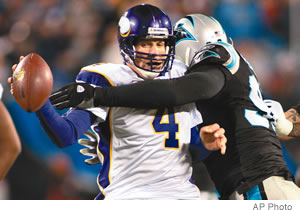 The Vikings' Brett Favre takes another hit from the Panthers' Julius Peppers on Dec. 20
Playoff fever is raging in a number of NFL cities, and there are still some spots that are not locked up. Even for those who are already in, there are few certainties. The interesting by-play between Minnesota Vikings head coach Brad Childress and star quarterback Brett Favre demonstrates that it's not always easy to get even a very talented team all on the same page.
In this case, the immediate issue was Favre's reluctance to come out of a meaningless game, one in which he was taking a pounding. Childress wanted to preserve his QB's 40-year-old body. Favre was all about competition.
The mercurial Favre has not been very good in December the last five years, and some believe he runs out of gas late in the season. But the blame goes on Childress. He's the coach and needs to act like a leader. Make the decision and stick to it. It would be hard to imagine that same sideline argument taking place between Colts coach Jim Caldwell and the classy Payton Manning. For one thing, those eventualities would have been decided in advance, and Manning is less publicly confrontational. And Manning wouldn't lose sight of the ultimate prize, which is winning the Super Bowl.
It's a virtual certainty that Jim Zorn will be replaced by the Redskins, and a decent bet that new Browns president Mike Holmgren will fire Eric Mangini. Mangini could hold the distinction of being the first NFL head coach to be fired by different teams two years in a row.
College basketball fans can get set for conference play with holiday tournaments now complete. The Big East will again be brutal. Pitt coach Jamie Dixon, a former Hawaii assistant, publicly made the case that Pitt should spurn the Big 10 if they come calling, currently pointing out that Pitt basketball would be poorly served by a switch. But basketball doesn't drive the bus on such decisions - that privilege belongs to football. When the Big 10 does add a team to give it 12, which will allow them to hold a lucrative football conference championship game, expect it to be the Scarlet Knights of Rutgers.
People are offering up suggestions for renaming the Big 10. What makes anyone think they'd change? When they went to 11 by adding Penn State they kept the name; the best guess is they'd do the same with 12 teams.
WAC basketball fans have to be somewhat disappointed in the early season with how its teams have played. Conference commissioner Karl Benson believed early on that the WAC would again be a multi-bid NCCA tournament league, but it doesn't look that way now. Utah State, Nevada and New Mexico State were all thought to be very strong; none has played particularly well. Louisiana Tech and Idaho have been about the best the league has to show, with Boise State, San Jose State, Fresno State and Hawaii all having their share of struggles. The Rainbow Warriors open the conference season at home next week and could surprise some people early if they can give Coach Nash a complete 40 minutes.
Here's wishing a fantastic New Year to Hawaii sports fans everywhere.
Most Recent Comment(s):