It's Called Coaching For Love

By
.(JavaScript must be enabled to view this email address)
Friday - October 28, 2005
|
Share

Del.icio.us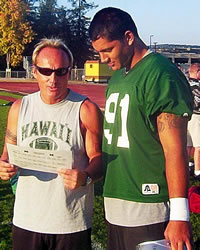 Jeff Reinebold and Ikaika Alama-Francis
The look is North Shore surfer. Walking through the inter-island terminal at Honolulu airport, Jeff Reinebold is sporting a deep-water tan, faded aloha shirt, sun bleached hair and slippers. He's carrying an ipu and ukulele. Your first thought is definitely not football coach. And when you delve a little deeper into the 25 year coaching odyssey that brought Reinebold from an executive position with the NFL to a graduate assistant post with the University of Hawaii football team, you'll be scratching your head.
On the practice fields in Manoa, Reinebold is clearly not your standard G.A. He has full coaching responsibilities, working with the defensive ends and special teams. And if he sounds and looks like a veteran coach, it's because he is.
After playing college ball at the University of Maine, Reinebold's head coach, the legendary Jack Bicknell, suggested he look at coaching as a career. Reinebold discussed it with his dad, a professional baseball coach for 30 years who promptly laid out all the negatives: no money, tough on family, lack of stability, constant moving from one place to the next. But it was satisfying work. Reinebold accepted an assistant position at Western Montana. That led to stops at Dartmouth, Montana, Penn, Rocky Mountain, New Mexico then into the pros in Canada with Las Vegas, British Columbia, then to NFL Europe, back to Canada as head coach of the Winnipeg Blue Bombers, back again to Europe and finally to a six-figure job with the NFL as the senior manager for international player development. Why leave to take a graduate assistantship that pays him $842.23 per month?
"I never got into coaching for the money. The NFL job was great," says Reinebold, "but I really missed the on-field stuff, working with players and seeing them improve."
Reinebold first started coming to Hawaii in the late 1990's to scout and recruit at the Hula Bowl for the CFL, and quickly learned to appreciate the Polynesian players. "We had Junior Tagoai, Joe Seumalo, David Maeva, who was about the best football player pound for pound that I'd seen," says Reinebold. "They were terrific kids and outstanding players."
From that time on Reinebold determined that he'd eventually try to live and work in Hawaii.
"We moved around so much with my dad's job," says Reinebold, "that no place on the Mainland felt like home. Hawaii was different - I felt a connection with the people and the place."
Reinebold had met June Jones and was impressed by his coaching style in Atlanta. He had long admired Mouse Davis, and when Jerry Glanville got hired he had to make the move. "He called once in a while to stay in touch," says Hawaii head coach June Jones. "I said all we had was the G.A. position and he indicated he was interested. I didn't think he was serious at first, but people didn't think I was serious about Hawaii either, so I knew where he was coming from."
Once settled in Hawaii, it became immediately apparent that Reinebold would be an asset to the staff. "I'd been told Jeff was a defensive backs guy," says Jones, "but he can coach anywhere on the defense. He's got that special ability to get through to the players; they respond."
Reinebold credits Dick Vermeil and his own father for his coaching development.
"My dad was great at teaching skills, and I learned that from him," says Reinebold. "Dick Vermeil always said 'you've got to reach before you can teach,' and that is so true. Coach Vermeil was a big influence on me."
Asked about future plans, Reinebold is characteristically laid back. "In a perfect world, I'd like to stay here. I've gotten emotionally attached to the players," says Reinebold. "If it works out that'd be great. But I'll find something interesting to do."
Most Recent Comment(s):