It's 'Miano Or Better' At UH

By
.(JavaScript must be enabled to view this email address)
Friday - December 14, 2011
|
Share

Del.icio.us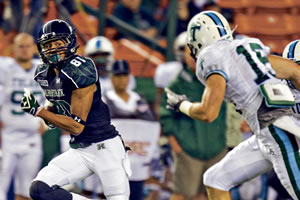 Hawaii wide receiver Royce Pollard (81), here against Tulane, is one of many seniors who will be missed in 2012. AP photo/Eugene Tanner
The University of Hawaii faces a decision that could impact is athletic department for a decade. After moving on from the Greg McMackin era, UH will hire a coach to move the needle on a program that is at the crossroads.
Attendance and therefore revenues are way short of expectations. The talent level is the lowest it's been since 1998. And now the football program moves into a conference with a shifting membership.
McMackin's downfall was expectations unmet, but nobody realistically could look at next year's team and expect to produce a winning effort. UH loses seven defensive starters, including All-WAC performers Kaniela Tuipulotu, Vaughn Meatoga, Aaron Brown and Corey Paredes, not to mention defensive leader Richard Torres. Three starters depart the offensive line which struggled mightily, and top receiver Royce Pollard and All-WAC QB Bryant Moniz also are gone.
Bill Belichick or Urban Meyer couldn't win with what is left.
UH will have to rebuild. So whom to tab for the job? Interim coach Rich Miano is beginning to look like a legitimate candidate. Miano is an excellent recruiter and has a ton of energy. He also is a keen evaluator of talent and has demonstrated that skill as the architect of one of the best walk-on programs in the country. He has a plan, can effectively communicate it to boosters and has great credibility with the players and their parents. He has exhibited organizational skills and salesmanship with Hawaii Speed and Quickness to develop Hawaii's youngest athletes, and found sponsors to make it affordable for all.
He also loves Hawaii and has never been tempted to leave. He believes the university is a magical place. As an added bonus, he doesn't care much about the money; he has invested well after an 11-year NFL career. For him, the job would be a destination and not a way station.
UH needs to look at all the candidates from everywhere in the nation. There will be no shortage of applicants. Some may have headcoaching experience, one thing that Miano lacks.
Whoever is hired had better have many of the attributes possessed by Rich Miano. I'm going with a motto: Miano or Better.
The university needs a head coach who is handson in every facet and is positive and energetic. He needs vision, a passion and complete commitment. He needs to be highly accessible, inspire a coaching staff as well as players, and he will not be able to slow down or get discouraged because the first two years will be difficult.
It has to be the right man, quite simply, because the future of University of Hawaii athletics, not just football, depends on it.
Most Recent Comment(s):