Job Security Is Simple: Win

By
.(JavaScript must be enabled to view this email address)
Friday - August 31, 2011
|
Share

Del.icio.us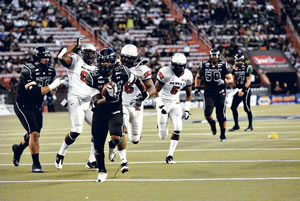 UH kicks off the season Saturday against Colorado. Lawrence Tabudlo photo
One of the favorite topics of water cooler debate is the coaches who are on the hot seat. Every season there are prominent head coaches who have to have an impressive year in order to keep their jobs. Experience may not save them. Fabulous previous performance is not enough. In the end, it comes down to victories. You can lose your job over off-field problems also (just ask Mike Price about his Alabama experience or Butch Davis about his stint at UNC).
But more often than not, it hinges on W's.
Take Mark Richt at Georgia. The man averaged 10 wins a year in his first eight years the most successful run a Georgia coach has ever had. But in 2009 the Bulldogs went 85 and followed that by falling to 6-7 last year. In two years he went from a man who could have been elected governor to the guy one step ahead of the posse. And Georgia opens with Boise Sate and South Carolina. Yikes!
Arizona State's Dennis Erickson has had winning programs at Wyoming, Washington State and a national championship at Miami. He's been the head coach of the Seahawks and the 49ers. But he hasn't led ASU to the promised land or even a reasonable facsimile. Expectations in Tempe are as big as his starting QB, 6-foot-8-inch, 240-pound Brock Osweiler. Anything less than a spot in the Pac 12 championship game and Erickson may have to retire to his beloved home state of "Warshington." The good news is that if a coach at one of these big programs does get the pink slip, he's made enough money to only work for fun for the rest of his days.
* Tennessee basketball coach Pat Summitt has been in more battles than anyone active in college basketball, but she faces her toughest test following her Mayo Clinic diagnosis of early onset dementia. She's won more games and more championships than any living basketball coach, and now has to strategize about how to handle her gradually diminishing mental function. The school is supporting her completely, and her longtime staff will be able to pick up more responsibility. Everyone who knows Summitt expects her best shot against the disease. In typical Summitt fashion, she announced, "There won't be any pity party. I'll make sure of that."
* One sign that the poor economy is having a strong effect here are the advance sales for the UH opener against Colorado.
Between season and individual sales, as this was written 10 days out, only 22,000 tickets had been sold. The 4:15 p.m. kickoff and free national television undoubtedly also are having an effect, but in better times UH would have been able to count on 37,000-plus for a highly regarded Hawaii team in an opener against a marquee opponent. Those kinds of number are in serious jeopardy now. UH will have to hope for a big surge in the final days leading up to game time.
Most Recent Comment(s):