Judge Throws NFL Owners For Loss

By
.(JavaScript must be enabled to view this email address)
Friday - March 16, 2011
|
Share

Del.icio.us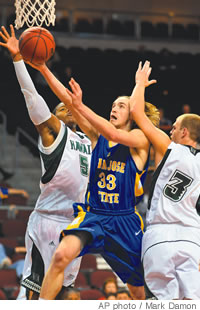 San Jose State's Justin Graham goes to the basket as Hawaii's Joston Thomas and Zane Johnson defend
If NFL players reach an agreement sooner rather than later, there will be one man who deserves credit above all others. U.S. District Court judge David Doty made a decision in favor of the players in finding that the NFL pursuit of television monies regardless of whether games are played in 2011 amounted to negotiating in bad faith.
By denying the NFL use of those funds, the pressure shifts to the owners, who have an equal incentive to get a deal done. It also sent the message that Doty, who will preside if other issues go to court, is not necessarily disposed to the owners' point of view. This doesn't mean that a deal is imminent, but it does up the ante to find a resolution.
* Last week I began to hear that the UH men's basketball team had played its way into the postseason, regardless of the results of the WAC tournament (they lost a heartbreaker in the opening round to San Jose State).
Obviously the goal for any program is a berth in the NCAA tournament, but failing that is there reason to play in one of the lesser tournaments? Almost any coach will answer with a resounding yes. It provides extra practice time, gets you more exposure and allows you the possibilities of increasing your win total which can make you more attractive to recruits.
For a program like UH, which has not enjoyed much success the last few years, it is a way to demonstrate that the program has turned around.
There is little doubt that UH would jump at the opportunity to continue playing. And maybe the best reason to hope that UH can continue to play as long as possible? This team has become really fun to watch - and in terms of the future, Vander Joaquim and Zane Johnson have developed into two of the better players in the conference at their respective positions.
Those two, along with Mia Ostrowski, Trevor Wiseman, Bo Barnes, Bobby Miles and Joston Thomas, will form a good returning nucleus. Expect the coaching staff to be relentless in pursing an inside player who can score and additional depth in the back court.
* Years ago, the late Boston politician Tip O'Neill famously declared that all politics are local. You could say the same thing at some level about sports. While on the road last week, my cell phone rang at 6:15 a.m. Hawaii time. It was my 5-year-oldson Finn, who was already dressed for his opening day baseball game. Nothing quite like opening day - new uniforms and the excitement of the ballpark. Both Max and Finn are playing in the very well-run Hawaii Kai Youth Baseball League. This is a shout-out to all the youth coaches in all the leagues in every sport. You may not even know the positive impact you are having on very young lives. Thank for all the effort and all the time.
Most Recent Comment(s):