Lakers' Blunder; Miles' Millions

By
.(JavaScript must be enabled to view this email address)
Friday - January 11, 2012
|
Share

Del.icio.us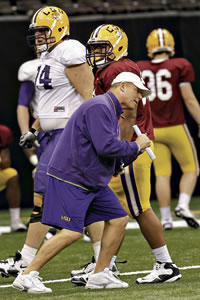 LSU coach Les Miles works with his players during practice last Thursday for the BCS Championship in New Orleans (AP Photo/Bill Haber)
Since the NBA Kings moved to Sacramento, it would be hard to find many examples of how they'd handled personnel situations better than the Los Angeles Lakers, but a recent one involving disgruntled players makes the Kings' handling of the situation look positively regal.
When Lakers forward Lamar Odom professed extreme unhappiness after having been included in a nixed trade involving Chris Paul, the Lakers caved in to his trade demand and dealt him to the conference rival Mavericks for next to nothing.
The far wiser move would have been to assuage his hurt feelings and re-integrate him into the team fabric, only trading him if fair value could be extracted.
When Kings big man DeMarcus Cousins became sulky and petulant after an argument with head coach Paul Westphal, Sacramento just let him sulk. Now Cousins is demonstrating his immaturity by loafing through games in a detached fashion, but as we go to print the Kings are waiting him out.
The team holds all the cards. Why let a player depart for next to nothing when he doesn't have any real option other than to shake off his hurt feelings and earn his paycheck?
It probably won't hurt that the Kings have now fired Paul Westphal, giving Cousins a feeling of importance.
* Many fans of teams outside the SEC are taking very little pleasure in the national championship game between LSU and Alabama.
Many object to the fact that it's a rematch; others are tired of the SEC superiority complex.
You couldn't find a college coach that wouldn't give up a lot to have some of the defensive talent on display in New Orleans. Some are saying that the two defenses will contribute as many as 10 players to NFL rosters eventually.
I'm still willing to give odds that at least one touchdown will be scored in the game, unlike the first time these two teams met.
LSU head coach Les Miles has more to gain than Alabama head coach Nick Saban. While both will receive significant cash bonuses for winning, Miles contract stipulates that winning a national championship requires him to be paid $1,000 more than the highest-paid coach in the conference, who happens to be Nick Saban at $5,383,333 per season, roughly $900,000 more than Miles currently earns.
* Congratulations to local college football official George Gusman, who has been selected to work the national championship game. Only the highest-graded officials are chosen, so it's nice recognition for the head linesman. And yes, that's the same George Gusman who coaches the Saint Louis High School varsity baseball team. I wonder if he ever argues with umpires?
Most Recent Comment(s):