Lakers' Loss Makes It Interesting

By
.(JavaScript must be enabled to view this email address)
Friday - May 13, 2009
|
Share

Del.icio.us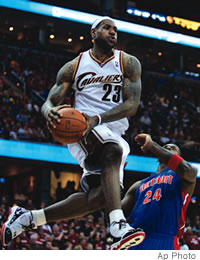 LeBron James: MVP all the way
Last week's opening second-round games in the NBA playoffs saw both Los Angeles and Boston losing at home to Houston and Orlando, respectively.
While I heard many of the Lakers fans here bemoaning the loss, for the rest of us it was a happy circumstance. And I'm not talking about Lakers haters, just regular basketball Joes for whom the series suddenly got interesting.
The Lakers are prohibitive favorites to advance, but in one game they hand over home-court advantage. It adds dramatic tension that might otherwise be absent.
I thought LeBron James being named MVP was appropriate, and certainly would have voted for him. He was absolutely dominant on both ends of the floor. And this is not to diminish the performances of Kobe Bryant or Dwayne Wade, both of whom turned in efforts that could have won them the award in other years. But the voting wasn't close. LeBron won by such a margin that many were surprised. But it's great for Cleveland. A superstar at the age of 24, James asked to receive the award at his high school so he could provide some inspiration.
When you consider his background, James is utterly remarkable for his perspective and his grace. He has become the face of the NBA and handles that responsibility beautifully, both on court and off.
It's hard to imagine him being a better player than he is now, but improvements in his mid-range shooting and post-up game could make him impossible to defend.

The news that Rainbow Warrior forward Rod Flemings is not eligible for the NBA draft took some by surprise, including Flemings himself.
The Hawaii junior swingman announced his intention to declare about a month ago, and says he sent the appropriate paperwork to the league and was waiting to hear back from them. The NBA says it never received anything from him, and with the deadline already passed, he's not eligible.
Flemings later said he had not completed the process and would return to the Rainbow Warriors for his senior season. Imagine how much good perimeter shooting will open up his game. The upcoming season shows serious promise.

For those who love the Kentucky Derby, it's the pageantry, the infield, the singing of My Old Kentucky Home and the mint juleps. But this time the race itself will be most remembered. Mine the Bird, a 50-1 shot that had been bought for $9,500, became the second-biggest long shot to win the Derby.
Jockey Calvin Borel won for the second time in three years and could barely contain his emotions. America loves an under-dog, but I just can't see this horse being competitive in the Preakness. The Derby win, though, stands tall among upsets and provides hope for underdogs everywhere.

The HHSAA baseball tournament is upon us and serves as a reminder of how amazing Punahou's five straight championships were in a single elimination format. You'd better have some pitching depth if you want to win this title.
I've got a feeling we'll see a new champion, but I've thought that the last three years!
Most Recent Comment(s):