Leapfrog Time In The Polls

By
.(JavaScript must be enabled to view this email address)
Friday - October 05, 2011
|
Share

Del.icio.us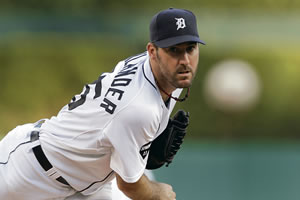 Detroit's Justin Verlander is in the MVP mix. AP photo
When college football fans check the national polls on a Monday, many expect any team that wins to at least maintain its position from the previous week.
But why?
Considering how arbitrary the first poll of the season is, why shouldn't an LSU team, with its second convincing win over a nationally ranked opponent, leapfrog an Oklahoma team that had to rally at home against Missouri?
Sooner fans believe they've been grievously wronged, but I think voters should assess each team with a fresh look each week, and I love that voters moved LSU up.
LSU will have to visit Alabama while Oklahoma still must play at Oklahoma State and against a scary Baylor team. So each team will have ample opportunity to prove its worth.
One team that will not get that chance is Boise State, which has only a diminished TCU outfit remaining on its schedule, which is otherwise unremarkable.
In fact, Boise State will likely drop down even if it goes undefeated if teams like Wisconsin and Stanford or even Georgia Tech continue to win.
The situation screams for a playoff, but in the midst of the conference shuffling money grab, nobody in power seems very concerned with finding a true champion. A shame, because I'd love to see Boise State face off with an Alabama or LSU.
The last day of baseball's regular season provided plenty of drama with comebacks and meltdowns, a rain delay and a couple of extra inning games.
And still questions remain about a pitcher winning the MVP. Not much doubt that Justin Verlander will get some serious votes. It would be easier if baseball made a rule excluding pitchers from eligibility; after all they have the Cy Young award.
I suggested exactly that to a hard-core baseball fan who looked like I'd just suggested that the U.S. move from a democracy to a monarchy. OK, so maybe we don't need another rule. But how do you compare a pitcher who might make 36 starts with a position player who plays 162 games? It doesn't seem to make a lot of sense.
How do the Dodgers' Matt Kemp and the Yankees' Curtis Granderson sound for MVPs?
And while we're on it, the objections to Kemp because he plays on a bad team seem irrelevant and unfair.
Nor should Granderson suffer in the voting because he is surrounded by so many tough outs.
Now we can begin to ponder the truly important stuff like where Albert Pujolis will play next year.
Most Recent Comment(s):