Looking For The Next Klaneski

By
.(JavaScript must be enabled to view this email address)
Friday - May 28, 2005
|
Share

Del.icio.us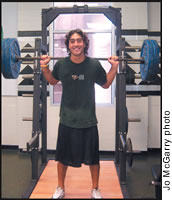 Mike Malala: working toward a
big season
Every football season sees at least one previously unknown player become a primetime participant for the University of Hawaii Warriors. Frequently the young man has walked on, serving a stint with the scout team and hoping for the big break that will put him on the field at Aloha Stadium. Ashley Lelie, Mike Tresler, Eddie Klaneseki, Jacob Espiau and James Fenderson are just a few who traveled this road into the legend and lore of Warrior football.
Meet Mike Malala. If you recognize the name, you're in the 1 percent of hardcore fans sharp enough to spot a guy who played the final four games last year on the kickoff cover team. This year, after a good spring, Malala is running second team at strong safety behind Lono Manners, and should see time in some of the special defensive packages. Malala will be a junior this fall, and like others just mentioned, has not had a direct route to a roster spot. Born in Hawaii, Malala moved to Bremerton, Wash., at age 10 with his mother Jeri after his parents divorced. At Central Kitsap High school, Malala was a three-sport letterman, playing wide receiver and defensive back in football, shooting guard in basketball, and running sprint relays and throwing discus and javelin in track.
He was good in all the sports, but not a blue chip prospect in any of them. Playing college ball in Hawaii was always on his mind.
"I came back every summer to stay with my dad," says the 21- year-old Malala. "My uncle had a surf stand in Waikiki, so I was on the beach all day. Made a little money and surfed a lot."He made the decision to come to Hawaii, but it was to UH-Hilo to play basketball. "It never worked out in Hilo for basketball, but I worked out a lot and ran, and I started thinking about trying to play football at UH," says Malala.
His father Les had played football at Damien with UH strength and conditioning coach Mel De Laura.
"I knew him when he was a little guy," says De Laura. "He's a good athlete, he can run, jump, great feet, really good size; now he needs to learn to play football." And it has been a learning process.
"I've picked up a lot from watching Leonard (Peters) and Lono (Manners)," says Malala. "But the hardest thing initially was being accepted by the guys. You show up, nobody knows you, and you kind of have to prove you belong."
The taste of playing time on special teams last year provided the impetus to raise the intensity of his workouts, and that led to an excellent spring session.
"All the hard work, the extra running and lifting paid off, " says Malala. "I'm getting much better with my footwork and my reads."
The improved effort was not lost on his position coach, Rich Miano.
"Physically, he's exactly what we're looking for. Now he's gotta go out and do it," says Miano. "He's really helped himself move up this spring."
At 6-feet-3-inches tall and 215 pounds, and possessed of Hollywood looks, Malala could be the advertising poster for Warrior football, but his goals are more concrete.
"I just want to be on the field and play," says Malala. "And I'd love someday to be introduced coming out of that tunnel."
In 2005, Mike Malala may be a name to remember.
Most Recent Comment(s):
Commenting is not available in this weblog entry.