Majesty And Tragedy At Pimlico

By
.(JavaScript must be enabled to view this email address)
Friday - May 26, 2006
|
Share

Del.icio.us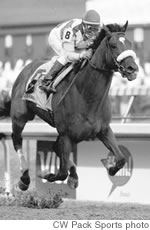 Barbaro, here running away
with the Kentucky Derby, was
fighting for his life as
MidWeek went to press
Last week's running of the Preakness, the second jewel of horse racing's Triple Crown, brought home all of the emotions associated with the sport of kings. By day's end, we had been reminded powerfully of two of the past legends of the sport.
Barbaro, winner of this year's Kentucky Derby, came to Pimlico with a tremendous hope of becoming the first Triple Crown winner in more than a quarter century. The 3-year-old had never lost a race, winning all six of his starts, improving in each race. He had shown an ability to run on turf and dirt, run in front or come off the pace, and always with the acceleration associated with the truly exceptional champions. He caused many in the industry to be reminded of Secretariat, the legendary Triple Crown champion of 1973.
Secretariat came into the Triple Crown series as the 2-year-old horse of the year. At the Kentucky Derby, he set a track record, did it again at the Preakness, and then at the Belmont ran what many say was the greatest race of all time, winning by 21 lengths and setting a world record. He retired after having won 16 of his 21 starts, placing three times and showing once, and walking away with the Horse of the Year honors once again, assuring his place in history.
Barbaro seemed possessed of the speed, determination and heart that allows a horse to separate from its peers. So lively that he broke through the starting gate prior to the race, he was reloaded apparently none the worse for wear. As the field left the gate, he broke well and appeared to be in great position when suddenly a misstep had the horse pull up lame, obviously seriously injured and unable to bear weight on his right leg. As more than 118,000 looked on in shock, Barbaro was loaded into an ambulance and taken back to the barns.
Bernardini, a lightly raced colt, ran an outstanding race to become the Preakness champion, but it was hard to even enjoy the race because, for many familiar with racing history, suddenly Ruffian leapt into consciousness.
Born in 1972, Ruffian, a filly, grew tall with a deep body and long legs. She won every race she entered as a 2-year-old and was named 2-year-old filly of the year. After resting and recuperating from an injury over the winter, Ruffian returned to the track as a 3-year-old and won the 6-furlong Calthea Purse by 4 1/2 lengths. She ran increasingly longer races, and won by larger margins. First, the 7-furlong Comely Stakes by 7 3/4 lengths, the mile-long Acorn Stakes by 8 1/4 lengths, and the 1 1/8-mile Mother Goose stakes by 14 lengths.
The Acorn and Mother Goose were the first two legs of the Filly Triple Crown. In the third race, the 1 1/2-mile American Oaks, Ruffian went to the lead and fought off every challenge, including a game one by Equal Change, winning by just under 3 lengths. A spectacular career, and it was decided to race her once more, this time against a colt, Kentucky Derby winner Foolish Pleasure. Could this wonderful gal hold her own against this excellent boy?
She seemed to embrace the challenge. On July 7, 1975, 31,000 people came to watch the match race.
Foolish Pleasure broke out in front, the first time Ruffian had ever been headed, but the filly charged inside and took the lead by half a length at the clubhouse turn. But at the mile marker, both jockeys heard a resounding crack and Ruffian had broken a leg. Her jockey, Jacinto Vasquez, fought to pull her up, but Ruffian fought equally hard to finish the race on three legs. Surgeons tried gamely to save the courageous filly, but she didn't respond, and had to be destroyed.
I've heard it said that no one had ever seen so many grown men cry as that fateful day at Belmont. That is, until last Saturday at Pimlico. As we go to press, Barbaro is fighting for his life in an uphill battle in eerily similar circumstances.
There is so much nobility in these majestic animals, and tragedy, too.
Most Recent Comment(s):