MLB Glad To Say Farewell To Fehr

By
.(JavaScript must be enabled to view this email address)
Friday - July 01, 2009
|
Share

Del.icio.us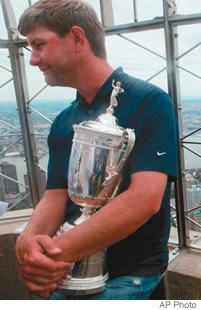 U.S. Open champ Lucas Glover takes his trophy to the top of the Empire State Building last Tuesday
The pending retirement of MLB Player Association executive director Donald Fehr will cause some owners to breathe a sigh of relief, while many players will remember him fondly. On Fehr's watch, major league salaries have gone through the roof, with guaranteed contracts and no salary cap. The marquee names have become fabulously wealthy. New York Yankees pitcher C.C. Sabathia, currently battling physical problems, has no need to add mental stress to his complaints. His $161 million salary is fully guaranteed even if he should fail to throw another pitch. He can thank Donald Fehr, who has managed to make such things possible.
But Fehr also may be remembered as complicit in the steroids era because he fought mandatory testing every step of the way. The good of the game never seemed to register on his priority list - it was always about maximum dollars. Some say that his record for keeping baseball from work stoppages was quite good, marred only by one canceled World Series. He leaves at a good time, just when some owners are beginning to talk salary cap.
There is no guarantee that his selected successor, Michael Weiner, will be less contentious than Fehr, but most owners seem willing to take their chances.

Some athletes seem prone to speaking without thinking, and Red Sox closer Jonathon Papelbon is the latest to be goaded into comments that will serve only to make his life more difficult.
Asked by a Boston radio station about his next contract, Papelbon said that if he was unable to secure a long-term deal at top dollar with the Red Sox, he'd look at clubs willing to pay him. When queried directly about the Yankees, Papelbon said he'd be willing to play in New York.
That was a bit of honesty that Papelbon should have kept to himself. You can imagine how that went over with Red Sox fans. There is no more reviled team for the Sox faithful that the Yankees.
Keep in mind that 30 years after the fact, former Yankees shortstop is still known as Bucky Effing Dent, and that's by white-haired grandmothers. Papelbon should follow the example of current New York shortstop Derek Jeter, who tells the media zero in the most pleasant way possible.

Just how life-changing is a win at the U.S. Open? For journeyman Lucas Glover, it will mean far more than the $1.35 million check. It also means Glover will be invited to the other three majors and the Players Championship for the next five years, will be exempt from qualifying for the U.S. Open for 10 years, and will receive a five-year exemption on the PGA Tour.
Not to mention all the corporate invitations, skins games and endorsement opportunities that begin almost immediately.
And, for the rest of his life, his introduction at the first tee will include "U.S. Open Champion."
Well worth enduring the rain and mud of Bethpage Black!
Most Recent Comment(s):