MMA Is Ripping Off The Fighters

By
.(JavaScript must be enabled to view this email address)
Friday - January 13, 2010
|
Share

Del.icio.us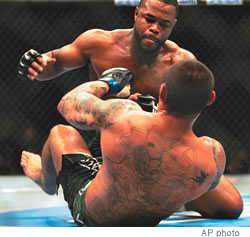 Rashad Evans gets the better of Thiago Silva in the UFC108 bout on Jan. 2. Evans won by unanimous decision
With the new year under way, it's time to acknowledge a couple of the great business people from the sports world. I remember a great line from an otherwise forgettable movie, where a bejeweled crone is lamenting her late spouse. "My husband was a wonderful man. He worked his employees like dogs and paid them next to nothing!"
She could have been talking about UFC head Dana White, who pays his MMA fighters a pittance for bouts in packed arenas with large pay-per-view buys. Even the media that cover these UFC cards are bamboozled by the crafty White. They rhapsodize about elite fighters earning huge paydays. When I queried one of them about a particular fight's purse, wondering if the combatants would earn seven figures, he responded in shock that the fighters might earn $200,000!
Let's face it, you could-n't get top boxers like Manny Pacquiao or Oscar de la Hoya to cross the street for a couple of hundred thousand. Boxers earn the lion's share of the revenues, not the promoter. But White has put a stranglehold on MMA, conducting his business like the robber-barons of yore.
I would have said White was in a class by himself, but that would be a great disservice to baseball uber agent Scott Boras. When Boras signed a deal last century for Alex Rodriguez with the Texas Rangers for $256 million, many thought that Boras' ability to get the Rangers to essentially bid against themselves was aided by the fact that Rangers owner Tom Hicks was a baseball outsider, a man who had made his money selling cars and was overwhelmed by the intensely driven Boras and his reams of data. No one else was even talking $180 million, so Hicks gave away $76 million for nothing.
Yet just last week Boras did it again. Somehow, he got the St. Louis Cardinals to pay Matt Holliday $120 million over seven years - when there were no other serious bidders for Holliday's services! Holliday is a very good player, but no other club was prepared to make a serious offer - he could have been had at five years for $70 million-$75 million. How does a sophisticated baseball organization like the Cardinals overpay a guy by $45 to $50 million? Jonah Keri, a baseball columnist for WSJ.com, has a theory: "Boras and his staff are very smart people - they don't just deluge you with data, they work the psychology of team needs and fan perception. They find the organization's vulnerability and work it relentlessly."
He suggests that teams need a VP of Common Sense to deal with Boras. Better yet, I volunteer to be a Director of Man Up for these teams. For a nominal fee I promise not to pay any Boras client more than market value regardless of what psychological ploys are involved. The savings will be astronomical.
But guess who I'd hire if I was a baseball free agent? Mmm-hmm - Scott Boras.
Most Recent Comment(s):