Mr. Smith Goes Back To Manoa

By
.(JavaScript must be enabled to view this email address)
Friday - December 16, 2005
|
Share

Del.icio.us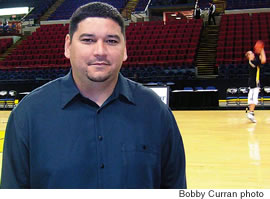 Alika Smith: born to coach
I don't know if you could say that basketball came easy to Alika Smith. But it did come early and often. By the time Smith was in the eighth grade, the word was out: The son of Kalaheo High coach Pete Smith could really play.
He was three times honored as the state Player of the Year at Kalaheo. A wizard with the ball, Smith could score going to the hole or with the long jumper. He was an excellent passer and a defender with uncanny anticipation - an upper level basketball I.Q.
The career at the University of Hawaii started slowly, but Smith was joined by Anthony Carter in his junior year and the pair had an immediate chemistry, so electrifying Sheriff Center crowds that they came to be known as the Dynamic Duo. Even ESPN's Dick Vitale got into the act.
"Look out for that Hawaii backcourt, baby. They'll shock and amaze ya!" And they did shock some of the nation's marquee programs, beating Indiana and Bob Knight by 17 points, and knocking off No. 2 ranked Kansas in the final of the Rainbow Classic.
When Smith and Carter were seniors, the team set the record for sellouts at the Sheriff Center that stands today. The two went separate ways after that magical year. Carter, after a brief stint in the CBA, made it big with the Miami Heat in the NBA, and still plays today with the Minnesota Timberwolves. For Smith, things didn't go quite as smoothly. He had hoped to get a look from an NBA team, but nothing materialized. Finally, he hooked up with a pro team in Cypress called the Argos.
"When I got to Cypress, our home court was concrete. Of the eight teams in the league, six had concrete floors, my knees were shot after a week," Smith says. And fans were a little bit more intense about results than Americans were.
"Darrell Armstrong was in the league," Smith says. "They had a playoff game on the road, and after some controversial call, Armstrong's team won. The crowd set fire to the gym and burned it to the ground."
Smith came home after a short stay and next got a chance to play for the Dakota Wizards in the old IBA.
"That was fun. I played with some really good guys," says Smith. "But the coach was terrible, easily the worst I ever had."
After the season ended in South Dakota, Smith came back to Hawaii. He worked summer camps with his father and helped out with the high school team. Needing credits to graduate, Smith accepted an invitation to assist former UH assistant Jeff Law, now the head coach at UH-Hilo.
"Jeff was great," says Smith. "I got to work with the guards, and helped break down tape. It was excellent training."
Smith came back to Honolulu with a degree, but had family responsibilities - wife Sunshine, son Jalen and another on the way -so he worked with disabled kids at Castle and Kailua through a company contracted for that purpose.
"It was gratifying work, but it didn't pay much," offers Smith. "I was looking for something else."
When Bob Burke left the Hawaii staff for the Portland Trailblazers, Smith threw his hat into the ring. After Riley Wallace's first choice, his brother Loren, was not approved for the job, Wallace settled on Smith.
"He was a smart player, he's local, he understands most of what we're doing already," says Wallace. "He made a lot of sense."
For now, Smith is in a happy learning curve. He's better able to support his family, which now includes 7-month-old Peyton ("I'm a big Colts fan," says Smith) and he loves to go to work.
Long hours?
"I guess it has a lot to do with working at something you love," says Smith. "But time goes really fast."
On his first road trip, Smith caught the responsibilities of the most junior coach - arranging team meals, bed checks and wake-ups, and counting heads on buses. And then there is the on-court work, where Smith is a keen observer. Of one player he says, "He's got to do a better job using screens. He needs to set up the defender."
And then he adds, almost as an aside, "I love this."
It's an affection returned by Hawaii fans every time they see Alika Smith on the sideline.
Most Recent Comment(s):