NBA Ref Conspiracy Theories

By
.(JavaScript must be enabled to view this email address)
Friday - June 10, 2005
|
Share

Del.icio.us
While you settle in to watch the NBA finals this week, you'll undoubtedly hear complaints about the officiating. Not just the occasional bad call, but howls of collusion by the league. And the jawboning is not confined to irate fans or gamblers miffed over a losing bet — it extends to players and coaches as well.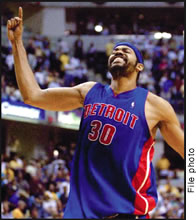 Rasheed Wallace: $20,000 for a
conspiracy theory
Longtime league observers have often held that stars get preferential treatment. And you could make a case that players such as Michael Jordan often seemed to benefit from tickytack calls late in games. Remember the push-off that cleared Jordan for the winning shot against Utah back in the day? Jazz fans are still not over it, while Bulls partisans dismiss it as mere whining by the losers.
Unhappiness with the way games are called isn't a new development. The usual result of sharp, sustained criticisms during play is that a technical foul is called. When that fails to stop the yammering, a second technical is assessed, which means ejection from the game. When the Detroit Pistons' big man Rasheed Wallace was with Portland, he set records for technicals, complete with maniacal, profanity-filled rants.
But those types of complaints, individual and random, are not what concerns the league. NBA officials get extremely touchy when a participant claims that officials make calls to steer the outcome of a game. Houston Rockets coach Jeff Van Gundy caused a major uproar earlier in the playoffs when he alleged during the Mavericks series that an official told him that instructions were in place to single out a player — Houston Yao Ming. Van Gundy later backed off saying that he'd talked to a league official rather than a game official. However, the league levied a huge fine, and Van Gundy was warned that a similar future transgression could result in a severe suspension or even banishment.
More recently, after a Game 5 loss to Miami in which he managed just two points, Rasheed Wallace said, "Y'all know we're going to win game six. If y'all don't know that, y'all crazy." The clear implication was that the officials were going to find a way to extend the series with their whistles. Wallace was promptly reprimanded and fined $20,000. The conspiracy theory alleges that because the NBA and its sponsors make so much money per game, the league instructs its officials to favor the team that trails in the series. If that were the case, would the Miami Heat have swept its first two series, or the Spurs dropped the Suns in five? Probably not.
That said, the NBA does produce some remarkably poor officiating. Part of it has been caused by rule interpretations that have evolved over the years. The traveling call, which allows one and a half steps without a dribble, is now laughable in the modern day NBA. Ashuffling of the feet, which leads to an automatic violation in college ball with ostensibly the same rule, is almost never called in the pros. You could make a case that Detroit's Rip Hamilton travels every time he catches a ball on the perimeter. The palming violation is also on the brink of extinction. Allen Iverson has raised this to an art form.
The calls that cause most of the trouble, though, are in the paint. The amount of shoving and pushing down low is at an all-time high. Much like the NFL's offensive holding, you could call a foul in the key on practically every possession. Mix that with players possessed of almost cartoon-like strength and agility and you've got a dilemma.
Officials are caught between stopping play constantly or risk losing control of the game. Until post play is cleaned up in a significant way, you'll continue to hear the losers' lament, "Our five couldn't beat their eight."
Most Recent Comment(s):
Commenting is not available in this weblog entry.