New look Bows worth staying up for

By
.(JavaScript must be enabled to view this email address)
Friday - November 14, 2008
|
Share

Del.icio.us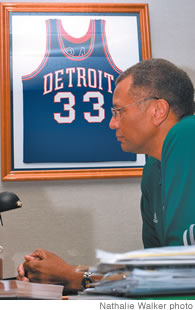 Excitement expected from Nash's new team
It's opening weekend for college basketball, and the University of Hawaii Rainbow Warriors are jumping in with both feet. Hawaii will play Friday, Sunday and Monday at distinctly different times.
The opener against San Francisco tips off at 7:35 p.m., Sunday's tilt versus Cal State Fullerton begins at 5:05 p.m. and on Monday you'd better take a nap because game time is 11 p.m. for Idaho State.
The reason for the late start is to put the game on ESPN, and Hawaii was willing to trade some crowd for the national exposure (1 a.m. Pacific time, 4 a.m. in the East). Late games are usually intriguing for students, especially on national television. It allows plenty of time to get hydrated and happy.
Early indications for the team are encouraging. They prevailed in a one-point win against Hilo when Hawaii played everybody and subbed liberally.
"We weren't terribly pleased with the performance against Hilo," says UH coach Bob Nash. "The next week we used it as a teaching point, and we were much better against Chaminade."
Not only was there game-to-game improvement, but both contests were played without Rod Flemings, who was on bereavement leave, or Brandon Adams, a 6-foot.-7 forward who is awaiting clearance."I've told our guys we won't win with individual talents, we'll win with unity," says Nash.
While it was a unified effort against the Silverswords, it's hard not to expect a quantum leap forward when Rod Flemings makes his first appearance in a Hawaii uniform. "What you love about Rod is that he's a team guy," says Nash. "He has great skill, but his real strength is making people around him better."
Not bad for a guy who can board, handle, score and defend. To have to open with three games in four nights might not be ideal, but it was necessitated by ESPN coming in late with the Monday offer. "It's the hand we're dealt," says Nash."We take the third game to get the showcase for our program on national TV. We'd have liked more rest in between, but we'll know where we're at."
Despite being picked seventh by the coaches and eighth by the media, this is a Hawaii team that figures to be much better than the bottom of the conference. "This league is wide open," says associate coach Jackson Wheeler. "We may surprise some people - there aren't one or two unbeatable teams this year."
There are no guarantees in college basketball, but the Rainbow Warriors will play an exciting brand of ball, and if they remain free of major injuries could challenge the top tier teams in the conference.
"I'd say this to basketball fans," says Nash, "come out and get on board. This group will be really fun to watch."
Ticket information and fan promotion can be found at Hawaiiathletics.com.
Most Recent Comment(s):