NFL Takes The Fun Out Of Pro Bowl

By
.(JavaScript must be enabled to view this email address)
Friday - January 27, 2010
|
Share

Del.icio.us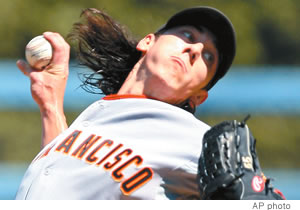 San Francisco's Tim Lincecum is getting a big raise this season
Like most sports fans in Hawaii, I'll view Sunday's Pro Bowl in Miami with disdain and a little sadness. Not only has it been stolen from Hawaii, but being played the week before the Super Bowl removes participants from that game as well.
We had come to think of the game as Hawaii's property, but the NFL sees the opportunity to squeeze more nickels from the event, even while admitting that Honolulu served the game well. And it may take awhile before those chosen to play in the Pro Bowl begin to find reasons not to play. The attraction was never playing the game; that was a nuisance tolerated because of the all-expenses-paid week for the entire family in Hawaii. Just put the game in Minneapolis or Dallas and we'll see a litany of minor injuries: sprained fingers, sore ribs, tight hamstrings and bruised everythings. That family vacation won't look nearly as attractive when the packing involves gloves and parkas instead of board shorts and tank tops.
As a spectator event, the game itself has no meaning. It provides fans with an opportunity to see their favorite players all together. Whatever value the game has will be lost when the rosters become full of players who nobody recognizes. The stars won't be there. They'll be looking for someplace warm and welcoming - someplace like Hawaii.
* Speaking of all-star games, the NBA is reaping what it has sown in regard to fan-voted starting lineups. Two players leading in votes for starting spots, Tracy McGrady and Allen Iverson, are no longer relevant. The injured McGrady has barely played, and the now unretired AI is a role player at best. All-star games have never been meaningful, but at least they recognized the best players in the game in a particular year. Now they are mere popularity contests.
* Major league baseball's arbitration process is always entertaining to watch. The San Francisco Giants ace Tim Lincecum is asking for a record $13 million award in arbitration, and he well might be worth it. Lincecum has won the Cy Young in each of his first two full seasons, is 40-17, and sports a 2.90 ERA. The Giants are offering $8 million. Under the rules, if the parties can't settle, the arbitrator has to pick one figure or the other. Either way Lincecum is in for a healthy raise, having made $650,000 last year.
* There may be parity in nearly all NCAA sports these days with one notable exception. The University of Connecticut women's basketball team may be the most dominant team in the history of college sports. They are big, physical, fast and exceptionally skilled. Their games even against top-10 teams are complete blowouts. Last year they were undefeated and won the national championship; this year's team is even better. Head coach Geno Auriemma is simply the best recruiter in the country. I rarely say this, but the chance of UConn being upset this season is near zero. They are that good.
There oughta be a law!
Most Recent Comment(s):