No Dispute: A Bad Rule

By
.(JavaScript must be enabled to view this email address)
Friday - November 16, 2011
|
Share

Del.icio.us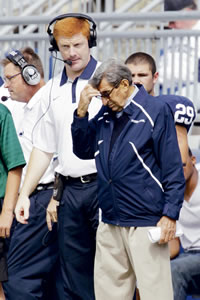 Then-Penn State coach Joe Paterno and assistant coach Mike McQueary on Sept. 24. AP photo / Gene Puskar
There is one phrase in the college football rulebook that is causing all kind of trouble "indisputable video evidence."
When the NCAA finally caved in to mounting pressure to use video replay to correct errant calls, it was not applauded by everyone. Even within the organization there was a sizeable faction that didn't want any part of video oversight. The reasons given were many, including that old bugaboo, tradition. Also cited were concerns about the increased length of games, undermining the authority of officials and removing the human element from football. As a sop to these detractors, the rule was written that reversing a call on the field would require "indisputable video evidence."
That one phrase is the source of tremendous inconsistency in the replay booth.
Now that we all realize that video replay is not the ruin of college football, it is time to change the rule. Once play is halted for a review, the call on the field should be irrelevant. We know that call was made in real time from only one angle. The proper way to conduct the review is to look at every available angle in slow motion and then make the call.
This would prevent what happened in the Michigan-Iowa game when what appeared to be the game-tying touchdown caught by a Michigan player was disallowed because the evidence was not "indisputable."
What is indisputable to one person is quite disputable to another. There is little doubt that any reasonable person making the call from replays would have called it a touchdown if the instruction had been make the call.
Later the same day, a Miami player was judged to have caught a pass for a TD versus Duke. The replay seemed to indicate that the pass was actually incomplete, but after review it was announced that the play would stand which is code for we don't have indisputable video proof.
Again, if the call on the field was ignored and the replay official just made the call, you would have gotten a correct call.
Now coaches have to hope that the replay official isn't too timid to reverse the on-field call. It's time for a change.
The mess at Penn State may be the worst scandal in the history of the sport. While some people might hold that game fixing would be the worst, the lasting damage and psychosocial scars inflicted on children from sexual abuse rises to the top of the list. Emerging facts seem to indicate that a considerable number of people either knew or should have known that former defensive coordinator Jerry Sandusky was involved in a pattern of sexual abuse of young boys.
It seems clear that the legacy of Joe Paterno fired last Wednesday after 61 years at PSU will be forever tarnished.
One can only hope that the tremendous amount of publicity generated may prevent similar abuses elsewhere.
This will go down as one of the saddest chapters in sport largely because it could have been prevented if good people had acted forcefully.
Most Recent Comment(s):