No Doubt About It, Tiger Is Back

By
.(JavaScript must be enabled to view this email address)
Friday - June 17, 2009
|
Share

Del.icio.us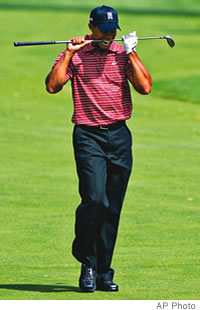 Tiger Woods bites his club after a mis-hitting his second shot on the 11th hole during the final round of the Memorial - moments before chipping in for eagle
So much for the golf analysts who suggested Tiger Woods' best days are behind him. His masterful come-from-behind victory at the Memorial was Tiger at his most dominant.
Starting Sunday four shots back, Woods blistered the course to post -7 for the day and -12 for the week.
Scary on the face of it, but the way he did it was scarier still.
Woods went 14-14 on fair-ways made and only missed five all week. He has never been more accurate in his professional career.
His chip-in from deep rough on No. 11 was beyond belief.
Birdies on 17 and 18 seemed almost inevitable.
Retired golf commentator Ben Wright was suitably impressed.
"I had the privilege of being at 16 of Jack Nicklaus'
18 major championships," says Wright, "and I consider Jack a personal friend. But this man Tiger Woods has to now be considered the greatest ever to play the game. I don't say this lightly, but consider me a convert."
Wright believes we may see Woods distance himself even further from the best of the rest.
"If he is this steady at Bethpage, I can easily see him winning by 10 or more shots," says Wright. "With his mastery of the short game and power off the tee, he is absolutely in a class by himself."
If Woods gets it rolling at the New York's municipal Bethpage Black, expect the gallery to sound more like a football crowd at the Meadowlands than a genteel group of "patrons," as they say at Augusta.

I've developed a healthy respect for the prognostications in Phil Steele's College Football Preview. He predicted Hawaii's turnaround in 1999, and was the only pundit to pick Hawaii's undefeated 2007 season and a berth in the Sugar Bowl.
But I hope he's wrong about the Warriors this year.
Citing problems on defense, Steele has Hawaii finishing 2009 in a sixth place tie with (gulp) Utah State.
And he doesn't rate a single Warrior defender worthy of being all-WAC, but does have wide receiver Greg Salas and center John Estes on the first team offense.
Steele rates Estes as the fifth-best center in the country, returner Malcolm Lane as the 18th best and quarterback Greg Alexander as the 53rd best signal caller.
One of the features of the magazine is the inclusion of projected two-deeps. On the Notre Dame page, he lists Manti Teo as the starting strongside linebacker, extremely unusual for a true freshman at a major power.
Steele's Top Five won't shock anybody - with Florida, Texas, USC, Oklahoma and Penn State amounting to a roundup of the usual suspects list.
But with all of Steele's prediction, the most painful is his projection for the Sheraton Hawaii Bowl. He's got Nevada vs. Houston here on Christmas Eve.
I'm sort of hoping for a different Christmas present, like maybe Hawaii-SMU.
And don't look now, but we're about 80 days from kickoff!
Most Recent Comment(s):