Oklahoma State Transformation

By
.(JavaScript must be enabled to view this email address)
Friday - November 23, 2011
|
Share

Del.icio.us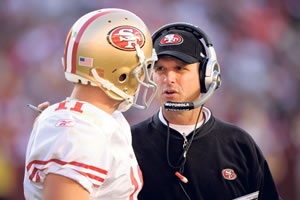 Under new San Francisco 49ers head coach Jim Harbaugh, quarterback Alex Smith is having his best season. AP photo
At the start of college football season, nobody outside of Stillwater would have believed that Oklahoma State would have a very real chance to play for a national championship. But if they knock off in-state rival Oklahoma, the Cowboys will be in for sure.
How could a former B-list, Big-12 member rise to such lofty heights?
The ascension coincided with massive financial support from super booster T. Boone Pickens. State-of-the-art facilities, a dynamic young coach and a fullcourt press on top recruits have made OSU a legitimate national contender. Throw in a grown man at quarterback in former pro baseball player Brandon Weeden, surrounded by fleet receivers including AllAmerican Justin Blackmon, and you may have the best offense in the country.
This was no accident. It was a carefully designed plan to turn OSU into a perennial power. Some may argue that there are misplaced priorities in Stillwater, but it would be hard to make the case that the infusion of Boonebucks has not been effective. Vision plus dollars plus commitment has been a successful formula in business fields, so why would college football be any different?
* Some of this NFL season's early darlings have come crashing back to reality.
The Detroit Lions are undoubtedly better than they've been, but are not the juggernaut they appeared to be a month into the season. After being pounded by division rival Chicago a week ago, the Lions need to look at the health of QB Matt Stafford. Is it the hand or have opposing defensive coordinators begun to figure him out? With Green Bay such a monster, it seems likely that either Detroit or Chicago may not make the playoffs, and right now Detroit looks like the odd man out.
Likewise, the Buffalo Bills have fallen from grace, and the 44-7 loss to the Cowboys makes me question whether Ryan Fitzpatrick and company just caught some teams unaware and underprepared. They, too, could be on the outside looking in come playoff time.
Which makes the San Francisco 49ers all the more remarkable. It's hard to believe the coaching change made this much difference, but what else can you think? Jim Harbaugh is the stone-cold, lead-pipe, mortalcinch to be coach of the year. Nobody else is close. The transformation of Alex Smith into an excellent game manager has been amazing to behold. Last year the former first-rounder looked to be a woeful performance or two away from being out of football. He may now merit a longtime deal.
And Indianapolis is moving ever closer to earning the top pick in the draft, and it will almost certainly be Stanford quarterback Andrew Luck.
Don't expect Peyton Manning to roll out the welcome mat and drop by with casseroles. The best Luck could hope for is a policy of benign neglect.
Most Recent Comment(s):