Picking wild card winners

By
.(JavaScript must be enabled to view this email address)
Friday - January 02, 2009
|
Share

Del.icio.us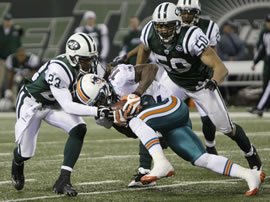 Davone Bess battles for a first down in the Miami Dolphins' AFC East, clinching a win against the New York Jets last Sunday
It's playoff time in the NFL, and before we look at the wild card games, you can put in your selection for collapse of the year the team that should be in the post season, but because of ineptitude on a grand scale is home watching on TV.
You might vote for the Cowboys, who seemed to be everyone's pre-season pick to get to the Super Bowl, but inconsistency and a lack of team chemistry saw them blown out by Philadelphia.
The N.Y. Jets were 8-3 and leading the AFC East before dropping four of their last five.Adding insult to injury, Brett Favre's final pass was a game clinching interception (just as it was in his final game in Green Bay last year).
But the biggest implosion was the Tampa Bay Buccaneers' fall from 9-3. Any win in their final four games put them in, but Sunday's loss to the Raiders represents the worst downward spiral in franchise history - four straight losses and home for the winter, leaving coach John Gruden and several players mumbling through explanations and apologies.
For every collapse there was a remarkable ascent through adversity for teams that came together for a stretch or even a season. The Miami Dolphins, coming off a 1-15 season, were sensational en route to an 11-5 record and AFC East title. And former UH Warrior Davone Bess played a leading role at wide receiver.
Nobody could have expected the Atlanta Falcons to replace head coach Bobby Petrino and QB Michael Vick with a pair of rookies and then get to 11- 5 and a berth in the playoffs.
And maybe most remarkable were the San Diego Chargers, written off at 4-8 but taking advantage of a weak division to run the table and thump the Denver Broncos.
Let's look at the first round of the post-season, with some predictions:
Saturday, Jan. 3 Atlanta at Arizona Sure the Cardinals ended with a win over hapless Seattle, and they might have the best tandem of receivers in the NFL. But they've had their doors blown off twice since wrapping up the horrid NFC West and have gaping holes on defense. Which means that Matt Ryan, Michael Turner and Roddy White should each have a field day in the desert. It will be over by half-time. Atlanta 35-Arizona 21.
Indianapolis at San Diego
This might be the AFC championship game, and both teams are playing their best football of the year. Peyton Manning will win another MVP award, and LaDamian Tomlinson is looking like his old self. Each team was impressive in its last regular season game. It will be right down to the wire and great fun to watch. San Diego 31-Indy 30
Sunday, Jan. 4 Baltimore at Miami The Ravens are still formidable on defense, and rookie QB Joe Flacco has exceeded expectations, but ... there is some magic with these Dolphins, who have an unusual number of guys making plays, including former UH Warrior Davone Bess. Miami QB Chad Pennington has played like a man with something to prove since being cut by the Jets in pre-season. Miami 24-Baltimore 20.
Philadelphia at Minnesota
The Vikings did beat the Giants, but N.Y. sat out four starters all game and QB Eli Manning for the second half, and still the Vikings needed a last-second 50-yard field goal to win. Meanwhile, the Eagles were beating the stuffing out of the Cowboys. Tavaris Jackson is no Donovan McNabb. Eagles 31-Vikings 17.
Most Recent Comment(s):