Playoff Pitching Is Dominating

By
.(JavaScript must be enabled to view this email address)
Friday - October 20, 2010
|
Share

Del.icio.us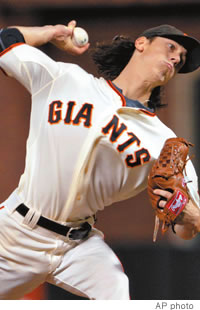 The Giants playoff hopes begin with Tim Lincecum's arm
We are in the midst of baseball's post season, and it's a good one. We've already witnessed fabulous pitching performances including a no-hitter by Philadelphia's Roy Halladay and a couple of gems by Cliff Lee, including an outing that provided the Texas Rangers with their first-ever playoff series win. Outstanding efforts by San Francisco's Tim Lincecum, Phillies' Cole Hamels and Yankees' Andy Pettitte.
There's been plenty of drama, and sidebar stories galore, which makes it a little sad that a week ago Sunday the Phillies-Reds game drew a 3.0 rating, while the NFL regular season game between the winless San Francisco 49ers and the Vickless Philadelphia Eagles got an 11.8 (a game not seen in Hawaii).
As far as national audiences go, baseball is no longer America's pastime, and hasn't been for some time. The monster numbers in televised sports clearly belong to football. It appears to be a trend likely to continue. You know the NBA is hoping that the reconstituted Miami Heat will catch the public's fancy because the league needs more than just the Lakers and Celtics.
Other sports need their top attractions to draw great ratings. Baseball needs the Yankees, golf needs Tiger Woods, hockey needs ... well, hockey has no savior, but the NFL can put up Cleveland and Buffalo and still get viewers.
All of which make the pending NFL labor strife nearly incomprehensible. The experts are divided on whether this will result in an abbreviated 2011 season or will be resolved amid accusations and nastiness at the 11th hour. Virtually nobody thinks there will be a reasonable, orderly negotiation resulting in a deal that both sides can embrace.
At least give the league and its players credit for one bit of honesty thus far. Nobody has tried to pretend that the fans are a factor in any of this. Both sides are smugly confident that the fans will return whenever the games resume and be grateful to pay inflated prices for seat licenses, tickets, luxury boxes and souvenirs, even parking. Must be nice, especially when recent estimates put the average value of an NFL franchise at just over $1 billion.
* It's funny how we all accept baseball's managers and coaches wearing uniforms at games. Someone observing from another planet would undoubtedly find it strange to see middle-aged-and-beyond coaches in full battle dress. I guess we should be grateful the practice doesn't extend to other sports. The thought of seeing Stan Van Gundy or Don Nelson in basketball gear or Rex Ryan pacing the sidelines in eye black and tight, shiny pants is too much to bear.
* And if you haven't yet caught a glimpse of the UH mens and wahine basketball teams, you're going to be pleasantly surprised. No question they have each upped the talent level and should be more competitive in the conference.
Most Recent Comment(s):