Recruiting, Warrior-style

By
.(JavaScript must be enabled to view this email address)
Friday - March 02, 2007
|
Share

Del.icio.us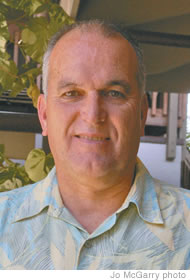 June Jones
Last week there was a special edition of Call the Coach with Warrior head football coach June Jones, centering on recruiting. The process of recruiting talented student-athletes is the lifeblood of any college program. Usually the success you have in February on national letter of intent day is a pretty good indicator of how good your team will be three years hence. While this year's class numbers only 16 (out of a possible 25 allowed), it seems to have answered the teams' specific needs. Hawaii had a more limited number to give because of gray shirts and scholarships awarded to players already in school.
The first thing we talked about was recruiting philosophy. Whom to recruit, and where. Under June Jones, Hawaii has limited its Mainland recruiting to prospects who have some Hawaii connection, and to those who express interest in UH. It has been decided that to chase after blue chip prospects who don't meet that criteria is a waste of time and money. But UH will not shy away from a prospect who does meet the criteria, regardless of how highly regarded he may be.
That is a change from when Hawaii backed off super blue chips because they thought they had no chance.
Secondly, we talked about resource allocation. UH football has a recruiting budget of approximately $60,000. The Warrior program has decided to spend that money on recruiting visits to Hawaii by prospective student-athletes. There is no money for coaches to go on the road to visit schools or players and parents in the homes. At big schools such as Texas or Florida, recruiting budgets may be listed at $400,000-$500,000, but in reality they are limitless. If Texas gets in on a Top 100 recruit late, members of the staff charter a private jet and fly to the prospect's home to make a visit.
And there is no limit to how many times they'll do that if they deem it necessary. Three such trips would equal Hawaii's entire budget. In this regard, UH is one of the have-nots.
"We've learned that we can develop relationships over the phone," says June Jones. "It's not ideal, but it's the best use of our budget."
One element that has changed because of the Warriors success is that more student athletes are contacting UH and sending videotapes.
"We are getting stacks of tapes," says Jones."It's a sign that more and more players are aware of our program."
It doesn't hurt that the offense led by Colt Brennan has been putting up outstanding numbers.
A third way of maximizing your recruiting is the extensive use of gray shirting. A gray shirt commits to begin as a full-time student a year from when he signs. For example, UH received a letter of intent from Kealakehe standout Gabe Tuata. Tuata will not enroll as a full-time student until the spring of 2008. This will allow him to get ahead academically by taking credits (up to nine) part time, improving himself athletically with extensive training and not beginning his five-year clock until January. Of this year's class, four of the signees will gray shirt. Last year six did so, and that group will be able to practice this spring and play next fall.
"It doesn't matter what your budget is," says Jones, "You're expected to get it done. I think when you look at our seniors, we've done that."
When LSU or Oklahoma fires up the private jets, UH fires up the text messages. A little creativity is going a long way.
Most Recent Comment(s):