Retired NFL players deserve benefits

By
.(JavaScript must be enabled to view this email address)
Friday - June 22, 2007
|
Share

Del.icio.us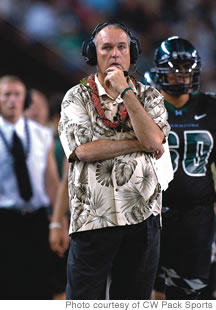 Coach June Jones
A long-simmering controversy regarding benefits for long-retired NFL players has come to the forefront once again. Mike Ditka has spearheaded the drive to get the NFL Players Association and the league to help former players who have fallen on hard times and have mounting medical bills. Some of the stories are quite sad.
I broached the subject recently with three former players whose careers spanned four decades. First I spoke with former Oakland Raider and pro football Hall of Fame wide receiver Fred Biletnikoff. He played from 1965 through 1978, and was the MVP of Super Bowl XI.
"When you look at the huge money in the league right now, it's a shame that nothing is being done for these older guys,"says Biletnikoff. "Many have medical issues directly related to their playing days, and they have no health benefits, and that's not right."
Former St. Louis Cardinal line-man Conrad Dobler has been identified as a player with major medical issues. He's had many surgeries and needs more. I saw him in Reno during basketball season. He gets around with a pair of canes. It is painful just to watch him try to walk.
"He's a good example,"says Biletnikoff."A guy like that shouldn't have to beg the league and the union to get help."
Pensions are small for the older players as well.
"Guys in my era get $200 per month for every year of service," says Biletnikoff. "That's not much by today's standards."
Warrior head coach June Jones, who played in the late '70s, takes it a step further.
"I had issues with the NFLPA from the time I played. It's ridiculous.You have to look at Gene Upshaw as responsible for a lot of this. How can they not get this done?" says Jones. "Do you know they have more than 400 employees? And their offices take up almost a full block. And they're going to tell me that they can't get health insurance for the guys who made all this possible?"
UH defensive backs coach Rich Miano played 11 years from the mid'80s to mid-'90s. Players made higher salaries than their counterparts from the '60s, but the pensions are parsimonious.
"I could take the pension when I turn 45," says Miano, "It would be $1,600 per month. Or wait till I'm 55 and get $2,600 per month. But the tough thing on most guys is the health issue.When your career ends you're on your own."
None of these three are hurting, but they each have former teammates who are. "It's about doing the right thing," says Miano. "There's a lot of money out there to take care of these older guys."
PGA Tour rookie Parker McLachlin has an unusual relationship with his coach, Waikoloa Beach and Golf Resort director of golf Scott Head. He's been working with Parker since his days as a young pro at Waialae Country Club. When Head moved to Tree Tops in Michigan, McLachlin went there to hone his game.
"I probably get to see Parker in person about six times a year," says Head. "The rest of the time we talk on the phone."
How exactly do you coach golf long distance? "Mostly he'll describe his ball flight and what he's seeing," says Head. "I know his swing so well that I can tell from the flight of the ball what's going on with his mechanics. It works pretty well."
It must. McLachlin is No. 136 on the money list, and has accumulated a little over $280,000 so far - probably almost half of what he'll need to finish in the Top 125 and retain his tour card.
Most Recent Comment(s):