Ruling Raises More Questions

By
.(JavaScript must be enabled to view this email address)
Friday - May 04, 2011
|
Share

Del.icio.us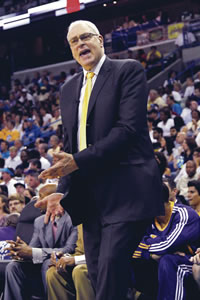 Los angeles Lakers head coach Phil Jackson reacts to an official's call during the second half of game four of a first-round NBA basketball playoff series against the new Orleans Hornets april 24 in new Orleans. AP photo/Gerald Herbert
You could hardly claim that Judge Susan Nelson's decision to lift the NFL lockout was a triumph of clarity. While it seems fairly clear that the players can claim victory in this round, nobody initially knew exactly what it would mean. Before last Wednesday's denial of the NFL's request for a stay, even the NFL teams couldn't agree on a course of action. The New York Giants welcomed players back, with coaches greeting their charges, and players could work out. The Buffalo Bills turned players away completely. Most let players in but didn't allow them to pursue "football activities."
Now the NFL must walk a tight rope between restrained competition that will allow the league to function and violations of anti-trust laws. Some are suggesting that the NFL should not hold its draft at all to be on solid legal ground. By the time you read this, we will know how that line of reasoning fared. What is obvious is that the league and the players need to avoid the ravages of the law of unintended consequences and get a deal done as quickly as possible, because it begins to become apparent that there will be no winner here.
* While some Lakers fans don't believe that Phil Jackson will retire at all, others are speculating that he will leave for a year, come back in the midst of a good free agent period and return the suddenly mediocre Lakers to their former glory. Nice storyline, but highly unlikely. To begin with, Jackson is 65 and has some health issues. He also has more money than he could reasonably spend even in an extended retirement. He is already the winningest coach ever. I believe him when he says he wants to spend time with family and travel. The Laker brass already thinks Jackson has received too much credit for the team's success. They are unlikely to want to put a high-gloss finish on the best resume of any living coach.
Retirement now means Jackson remains forever in the pantheon with Vince Lombardi, Bear Bryant and John Wooden. Returning would be a decision made by a man with an unexamined life, and that isn't Phil Jackson.
* Tiger Woods may have more problems than just getting his golfing psyche together. New reports of an Achilles injury and knee trouble could become more of an issue than his emotional state. He's already withdrawn from one tournament, and if he's not healthy enough to play in next month's U.S. Open, it could put a serious crimp in his chase of Jack Nicklaus' major championships supremacy. The flat stick is already a problem; if the ball striking goes south, maybe not even Tiger will be able to recover a top level of play.
* It looks like Matt Kemp of the Dodgers may win the Best Start in Baseball award. Not only the hitting, but his defense and base-running all seem vastly improved from last year.
Most Recent Comment(s):