Second Chance For UH's New Colt

By
.(JavaScript must be enabled to view this email address)
Friday - June 25, 2005
|
Share

Del.icio.us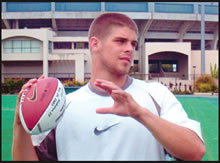 Colt Brennan: older, bigger, wiser
Sometimes life is about a second chance. For Colt Brennan, the newest quarterback candidate at the University of Hawaii, it may also be a best and last chance.
Brennan played high school football at Southern California powerhouse Mater Dei. For two years he backed up future Heisman Trophy winner Matt Leinart before picking up the reins and enjoying a solid senior season. While many schools expressed interest, only Utah State offered a scholarship. Determined to go to a major college, Brennan trekked cross-country to Worcester Academy in Massachusetts for a year of prep school. He increased his scholarship offers, but schools like Villanova and Connecticut were not what he had in mind. When Colorado offered him the chance to walk on and earn a scholarship, it appeared to be the fulfillment of a dream. Inside of a year, the dream turned into a nightmare.
After a dorm incident involving a CU co-ed, Brennan was arrested and charged with five counts. Despite strong eyewitness testimony in his favor, and a constantly changing story from the complainant, Brennan was dropped from the football team. Three of the charges were dropped, but he was offered a plea agreement on the remaining two. A guilty plea meant seven days in jail, community service and probation. Fighting them would mean a protracted legal battle, effectively ending his football career.
He chose to accept the plea and move on, but the scars still linger.
"It was unbelievable, seeing your name in the headlines for these horrible things," says Brennan. But he admits he made a serious mistake that night.
"I'd been out with some friends and I was drunk," he says. "If I hadn't been drinking, it never would have happened."
Brennan enrolled at Saddleback Community College and played well. He led his team to an 11- 2 record, threw 30 touchdowns against seven interceptions, completed 65 percent of his passes, and rolled up nearly 3,400 yards.
And he grew.
"There were always questions about my size," says Brennan. "I was 6-foot-1-inches. and 170 pounds, and now I'm 6-3 and 205."
Brennan again had suitors, but the baggage he now carried made the bigger schools worry. He loved the Hawaii program, and the coaches had been steady in showing interest.
"San Jose State offered a scholarship," says Brennan, "but I wanted to be here."
Brennan is working out every day at UH. He is thoroughly enjoying his new teammates, and his beautiful surroundings.
"People seem laid back and more genuine here," he says. "The other quarterbacks are great, we're hanging out together. I'm working out every day and watching a ton of tape. There's a lot to learn."
Brennan is confident on the football side:
"We ran a similar offense at Saddleback. I was in the shotgun every snap. I have the physical tools to compete in the offense. I'm gonna work hard, and we'll see how it goes."
Brennan's experiences have taught him some valuable lessons.
"My family and friends gave me great love and support," he says. "I want them to be proud."
It's apparent that Brennan has grown in several ways over the last couple of years.
"I've learned that I don't have to drink to have a good time," says the 21 year old. "I know that many people have heard some negative things, but I want to make a good impression and earn their respect."
Sounds like the second chance may be the right chance.
Most Recent Comment(s):
Commenting is not available in this weblog entry.