Seeing A Bright NFL Future

By
.(JavaScript must be enabled to view this email address)
Friday - March 25, 2005
|
Share

Del.icio.us
Like millions of Americans, former UH football standout Chad Owens kisses his wife and children each morning and goes off to work. Unlike most of those people, Chad Owens' job is being a professional athlete. Currently, he lacks an employer, a small detail that will change when the NFL holds its annual draft in April.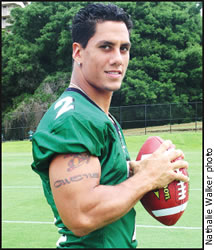 Former UH football standout Chad Owens
says his job is being in the best shape possible
It has been a remarkable journey for a man who didn't have a single scholarship offer out of Roosevelt High School.
"I had a lot of letters, even from Nebraska and Colorado. But that's all they were. Nobody was offering anything," says Owens in a matter- of-fact voice. "So I looked at walking on at UH as an opportunity."
It was an opportunity he would make the most of, exploding onto the national scene with an electrifying 324 return yards and two touchdowns during an ESPN game against BYU as a redshirt freshman in 2001. He was a player with very little size at 5 feet 9 inches and 172 pounds, and something less than breakaway speed. But he had extraordinary quickness and a surfeit of self-confidence. It made him fearless and feisty. First as a returner and later as a receiver.
"I always knew I could play at UH; I believed I could be a star," says Owens. "All the good things, all the accomplishments, I imagined them before they happened. Every one of them. Kind of crazy." Owens had more than a gift for visualization though. He had what many players with more talent lack — an understanding of the relationship between what you achieve and how hard you work.
Always a glutton for working out, Owens supplements the endless sessions of running and lifting with agility drills and pool work.
"Your job is to work at the radio station," Owens tells me. "My job is to be in the absolute best shape possible." After a sensational set of games at the end of his senior season, and leading all receivers in the East-West Shrine game, Owens had a huge test at the NFL combine in February. He put on a fantastic display, finishing in the top three receivers in every agility drill, running sharp routes, catching every ball in sight and running a respectable 40. But he may have set himself apart most for being the only player at the combine to wear a suit to team interviews.
"It was suggested at an orientation in Phoenix. A speaker was brought in to tell us what to expect at the combine and to remind us it was a job interview," says Owens. "Well, I'm looking for a job."
Jacksonville, San Diego, Denver and Arizona all expressed serious interest.
"Whoever takes me is my new favorite team. And they won't be disappointed," vows Owens.
One aspect of Owens' personality distinguishes him from many contemporary athletes.
"I love being a role model," Owens enthuses. "If I can inspire a kid by what I accomplish, there's no better feeling." Recently, Moanalua football player John Estores was stricken by a rare and lifethreatening type of staph infection. When Moanalua head football coach Arnold Martinez contacted UH coach Rich Miano to say that Owens was Estores' favorite player, Owens went immediately to the hospital, chatting with the youngster until the nurses took him away for tests.
"When Chad walked in, John jumped out of bed to give him a hug before the doctor could stop him. Chad was unbelievable, " says Martinez. "It had an amazing effect on John."
Estores is now home and expected to make a full recovery.
Owens is the first to say he has a tremendous support system. He has been with wife Rena for over 10 years, since they were junior high sweethearts. His son, Chad Jr., is almost 2, and daughter Areana is the new addition. His mom and stepdad have been behind him all the way, and his birth father has recently come back into his life.
For now, as he prepares for this week's Pro Timing Day in Carson, Calif., Owens is seeing the future again.
"I'm going to do big things on Sundays. It's wild, but I already see it."
And for a future goal?
"Someday I'm going to come back and play in the Pro Bowl in front of my family and all the people of Hawaii."
Some might find it a bit grand, but for Owens it's just another day at the office.
Most Recent Comment(s):
Commenting is not available in this weblog entry.