Senegal's Gift To Hawaii

By
.(JavaScript must be enabled to view this email address)
Friday - March 03, 2006
|
Share

Del.icio.us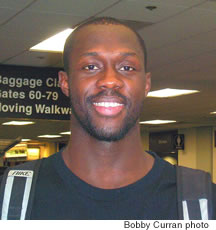 Ahmet Gueye: 'I need this education'
Attend a University of Hawaii basketball game and it doesn't take long before you notice Ahmet Gueye. The Rainbow Warrior post player is listed at 6 feet 7 inches, but plays considerably bigger. He is blessed with uncommonly quick feet and is a tremendous leaper, attributes that make him the Western Athletic Conference's leading shot blocker. Quick, strong post moves get him in position for close range shots that have produced nearly 60 percent shooting.
Perhaps more remarkable than any of his athletic achievement is his personal adventure.
Three years ago, Gueye was playing high school basketball in Senegal. He was a good high school student and spoke Wolof, an African dialect, and French, but no English. After his uncle, Dallas Mavericks scout Amadou Galo, held some camps in Dakar to showcase local talent to American college coaches, Gueye felt he could compete in the United States. His uncle agreed, and set him up at Salt Lake Community College in Utah. He got off the plane not knowing a soul and not speaking the language, thousands of miles from home.
"At first, school and basketball were both incredibly difficult because I couldn't understand anything," says Gueye. "Every night I had a headache." But great support from the basketball staff allowed the affable Gueye to learn quickly.
"Coach Perry was so patient; it made a huge difference," says Gueye. "Every day after practice I had my alphabet books to help me with my English and each day I got a little better."
That Gueye is a hard-working student stems from his family background. The second of four children, Gueye and his siblings were constantly reminded of the value of education by their parents. Gueye's father, Abdoulaye, is a book publisher in Dakar; his mother, Seynabou, works in a bank.
"My parents are very supportive of me. They know how hard it is to study and play basketball at the same time," says Geuye. "And they know I try my best."
Gueye's command of the language makes it almost impossible to believe he's been speaking it for less than three years. The slightly accented speech has a certain lilt, but his comprehension is outstanding. He's quick to laugh and teammates enjoy his easygoing, joyful nature. "I love practice," says Gueye. "These teammates and coaches are my family here, and practice means I can be with them."
According to Gueye, the decision to come to Hawaii was an easy one, despite being heavily recruited by Utah, Utah State, Boise State, BYU and Montana.
"The climate, the ocean and especially the friendliness of the people," says Gueye. "It really reminded me of home."
Gueye also seems to have basketball in some perspective, unlike many of his American counterparts.
"I want to go as far in basketball as possible," he says. "If I could play professionally at some level, I'll pursue it. But I need this education so I have other options."
Gueye has a double major of French and sociology. While he could follow his older brother's footsteps working for his father's publishing business, Gueye is eying up a world of possibilities.
"I would like to work in business, perhaps as a translator," says Gueye. "If I could get a good job in the U.S. that would be great. If it's Europe or Asia, that would be fine too."
As far as being homesick, it's the home cooking he misses the most.
"We have a lot of fish and vegetables and rice," says Gueye, " but back home it's a different taste."
Gueye will make a short trip home before returning to Hawaii for summer school. He hopes to learn more about Hawaiian culture.
"I love learning new things, meeting new people, finding different places to visit," says Gueye.
For Ahmet Gueye, the adventure continues.
Most Recent Comment(s):