Softball Wahine going to Rocky Top

By
.(JavaScript must be enabled to view this email address)
Friday - May 25, 2007
|
Share

Del.icio.us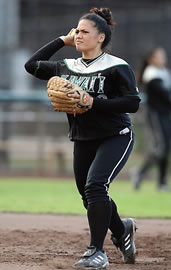 Valana Manuma: a Rocky Top
reunion
It's time for the Rainbow Wahine softball team to learn the lyrics to Rocky Top. That's the tune commonly heard at University of Tennessee athletic events, and the Volunteers will be hosting Bob Coolen's team in the NCAA softball Super Regional in Knoxville beginning Friday.
It's a magnificent achievement for a Rainbow Wahine team that has never before won a regional championship. And they did it in grand style with an extra inning win in the opener against UC-Santa Barbara, then another extra inning victory against long time nemesis UCLA - on the Bruins' own field, no less - followed by a mercy rule whomping of Loyola Marymount.
And yet one of the things that lets you know this team is special is the low-key celebration. "Our team knows there is still business to take care of," says head coach Bob Coolen. "We're playing well and we have confidence."
One of the great sidebars to this Super Regional is the presence of the two Hawaii players on the Tennessee roster, Kamehameha alumna Liane Horiuchi and right fielder Anita Manuma. Manuma has two sisters on the Rainbow Warrior team, Valana and red shirt Malama. Valana and Anita have not seen each other since Anita left for Knoxville.
Tennessee features one of the top power pitchers in the nation in southpaw Monica Abbott, who has been clocked at 71 mph - the equivalent of a 100 mph pitch in baseball.
"I'll get our team ready by pitching to them from 30 feet," says Coolen, "that's instead of the regulation 43 feet." The Super Regional is best two out of three, with the winner receiving a spot in the College World Series.
There are few among us who haven't spoken and later wished we had remained silent.
You've got to believe that's the case for N.Y. Yankee Jason Giambi. After admitting to a grand jury in 2003 that he had used steroids in what were supposedly confidential hearings, Giambi later issued a nebulous apology but never admitted specifically to steroid use. This was because his contract contained language that would allow the Yankees to void his deal if he had confessed directly.
That makes his comments last week calling for an apology from Major League Baseball almost incomprehensible. During his rant, he said,"I never should have used that stuff," which has MLB demanding a meeting and the Yankees reportedly considering the possibility of voiding the remaining $37 million left on his contract. Interesting that he chose to speak out while being benched during a slump. For this year's $23 million-plus salary, Giambi has posted a .274 batting average with 6 HR and 19 RBI. That time spent talking to reporters might have been better spent in the batting cage.
Most Recent Comment(s):