Something Screwy With Early Polls

By
.(JavaScript must be enabled to view this email address)
Friday - October 07, 2009
|
Share

Del.icio.us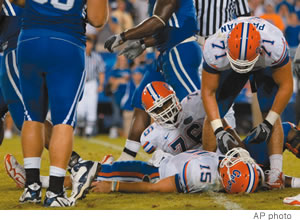 Florida quarterback Tim Tebow is down and out after a big hit from Kentucky's Taylor Wyndgam on Sept. 26
You have to take the college football polls with several large grains of sodium chloride. Voters are human and prone to a lifetime of biases that have much to do with perception rather than fact.
Last week's polls had four teams I felt were overvalued.
Start with No. 4 LSU. The Tigers opened with a victory over Washington, which was winless last year and is improved this season, as evidenced by the Huskies' upset of USC, but are still in the process of becoming a team as witnessed by their blowout loss to Stanford a week later. Then the Tigers had a lack-luster win over Vanderbilt, pounded FCS opponent Louisiana-Lafayette, and then needed a goal-line stand to best Mississippi State. Not a high-caliber win in the bunch - and that gets you to No. 4?
Then you look at Iowa, which went from unranked to No.13 by virtue of an admittedly good road win at Penn State. But Iowa was lucky to beat FCS in-state foe Northern Iowa 17-16, whipped gawdawful Iowa State and had a routine win against Pac-10 middle-ofthe-pack Arizona. When you're in the Big Ten, it helps despite the fact that the conference hasn't been really good for about eight years.
But the one I really love is No. 16 Kansas. They open with a win over a lousy FCS school in Northern Colorado. Next they beat UTEP 34-7, which lost to Texas last week 64-7 (it could have been 100). They beat Duke and Southern Miss at home and suddenly they're at No. 16! I have my doubts whether the Jayhawks could stay with Houston or Boise State. But those teams needed real wins to get highly ranked, and a loss will take either of them nearly out of the polls.
It ain't right, but it is what it is.
* Listening to the pundits after Florida QB Tim Tebow was taken to the hospital with a concussion suffered in the Kentucky game, I was amazed at the rather cavalier and ill-informed opinions being offered up.
"You'll have to chain him down to keep him from playing against LSU," said ESPN's Kirk Herbstreit.
"I wouldn't anticipate any problem with him playing in Baton Rouge," opined Todd Blackledge.
These two are both good analysts, but neither has a medical degree nor apparently much knowledge of the nature of concussions.
Whether or not Tebow plays will be a medical decision, and rightly so. Long gone are the days when someone says, "Son, you just got your bell rung. Now get in there and give 'em hell." Concussions are very serious business, but that does-n't seem to be common knowledge just yet. Here's wishing Tebow a return to good health.
* One of the many things to admire about Rainbow Wahine volleyball coach Dave Shoji is his refusal to engage in coach-speak when talking about opponents. The worst I've ever heard was from former football coach Lou Holtz, who could be playing Our Lady of Perpetual Trepidation and tell you that his team was facing nearly insurmountable odds.
When Shoji was asked about the WAC, he candidly remarked that Hawaii was more talented than the rest of the league and the tough part is getting his players to stay focused.
Hawaii will win another conference title very easily, and it's nice to hear a coach offer up the unvarnished truth.
Most Recent Comment(s):