The Accidental Pitching Coach

By
.(JavaScript must be enabled to view this email address)
Friday - February 17, 2006
|
Share

Del.icio.us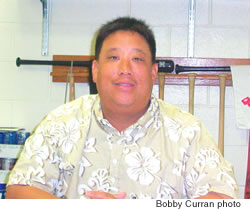 Chad Konishi: Born to recruit and teach
Sometimes a career comes about almost by accident. Chad Konsihi, 35, pitching coach and recruiting coordinator for the UH baseball team, is a case in point.
Following a successful senior season at the University of California, the Punahou alum needed one more semester to graduate. Cal coach Bob Milano asked him to serve as an undergraduate assistant during the 1994 season while he figured out where his psychology degree would best serve him. Then he was offered an assistant coaching spot at City College of San Francisco, still trying to figure out a professional path.
"I had three part-time jobs," says Konishi. "I was coaching by day, sorting mail and boxes for a parcel delivery firm by night, and working weekends as a night auditor for a resort hotel."
Only after accepting a full-time assistant post at the University of San Francisco did Konishi realize the career search was over.
"Once I got the chance to recruit players, and then watch them grow, " says Konishi, "I knew this is what I wanted to do."
In six years at USF, Konishi coached 17 all-conference players and 20 players who were drafted.
When Mike Trapasso was hired to replace Les Murakami, Konishi decided to apply for an assistant coaching job, a move not unanimously endorsed by his own family.
His parents, Bob and Betty, were longtime UH baseball season ticket holders, and it was Betty who advised him to stay on the Mainland.
"My mom thought there would be too much pressure and stress in the UH program, and less opportunity than on the Mainland," says Konishi. "But I felt that nobody could put more pressure on me to win than I do on myself no matter where I'm coaching, so I decided to pursue the job."
Konishi asked a couple of coaches who knew both Mike Trapasso and him to call the new head coach on his behalf. An interview was arranged near the Los Angeles airport.
Mike Trapasso knew exactly what he was looking for.
"There is nothing more important in college athletics than recruiting," says Trapasso emphatically. "Chad had impressed people with his work ethic, and he had developed excellent West Coast contacts. And the more we talked pitching, I knew we shared the same philosophy."
Still, working as a pitching coach and recruiting co-coordinator for a man who had excelled in exactly those areas had to be daunting.
"It takes a while to establish trust," says Trapasso. "But with Chad, it didn't take long."
When it comes to recruiting, both men are grinders, willing to endure long trips and extended absences from home in order to sit on splintered bleachers for up to 14 hours a day to root out prospects.
"If the games start at 8 a.m.," says Konishi, "I like to get there at 7. And I don't leave 'til the last pitch is thrown. They may put in a pitcher late in the game and I don't want to miss him."
This was a Trapasso kind of guy. And the commonalities extended to the philosophy of pitching.
"We're on the same page," says Trapasso. "He's a little more detail-oriented, I'm a little bit more big picture. I think we complement each other very well."
Talking to Konishi in his office, the phone rings frequently. A recruit with a transcript question, then a junior college coach. Building the network means working the phones.
"I always loved the recruiting part and had a knack for it," says Konishi. "I've grown into a better teacher, and look forward every day to working with the guys."
Trapasso agrees. And sees a bright future for Chad Konishi.
"He's become a complete coach," says Trapasso. "No question he becomes a head coach soon. He deserves it."
And Konishi is about to go through another life change. He recently became engaged to Mari Okimoto, with wedding plans imminent.
But for now there are players to develop and games to win.
And, as I leave Chad Konishi's office, another phone to answer.
Most Recent Comment(s):