The Best Ever DB At Manoa?

By
.(JavaScript must be enabled to view this email address)
Friday - April 21, 2006
|
Share

Del.icio.us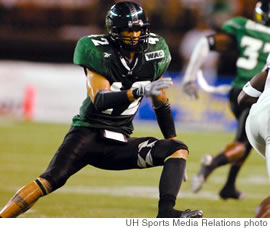 Leonard Peters is hoping the NCAA gives him another
season at UH
Ask players about football practice and they usually indicate that it's a necessary evil. As former University of Hawaii head coach Fred Von Appen once remarked, "Kids don't generally knock on Mrs. Smith's door and ask if Tommy can come out so we can knock the crap out of each other."
Practice is long and arduous, with periods of boredom interrupted by violent collisions. But that's not the way Warrior senior safety Leonard Peters looks at it.
"I always have fun, and I want everyone playing with me to have fun."
Peters grew up on Hawaii's North Shore and played for the Kahuku Red Raiders. He has always been an excellent player, and has always sought out the lighter moments. It is not unusual to watch him at practice, poking fun at a teammate or re-creating by pantomime a player's move, for better or worse.
"Sometimes you need to laugh, and I do," he says. "But I'm ready to work and be serious too."
Opponents have learned that Peters has a very serious side. Known as a big hitter, his reputation was solidified when USC Heisman Trophy winner Reggie Bush was asked about the hardest he'd ever been hit.
"That No. 42 on Hawaii," Bush said, reciting Peters'jersey number.
Peters arrived at UH with 180 pounds on his 6-foot-2-inch frame. He was very fast, but rail thin. Through constant work, that has changed.
"The weight training helps," he says. "Though I've always struggled to put on weight."
Now up to 215 pounds, Peters says it didn't happen by accident. "I eat six meals a day," he says. "If I don't, I drop right back down."
Currently waiting on an extra year of eligibility from the NCAA, Peters is getting ready for a final season, and is working harder than ever.
"I work on my legs now, " he says. "I never used to do squats and box jumps."
Peters' combination of size and speed has gotten the attention of NFL scouts, and a full healthy season will increase their interest.
"Leonard has NFL tools right now," says UH defensive backs coach Rich Miano. "He's not only our fastest guy on the track, but he's got game speed. You watch him close on fast receivers and it's incredible. I believe he's the best safety we've ever had."
Not an insignificant compliment from a man who played 11 years in the NFL at the same position.
For Peters, the NFL is one goal, but he has alternate plans if it doesn't work out.
"I've always wanted to play in the NFL, but I won't be one of those guys who is completely miserable if it doesn't happen," he says. "I won't hang around chasing Canada or the Arena league."
That's partly because Peters has another love, Polynesian dance. He's already been on the Polynesian Cultural Center's promotional team, traveling and working in Japan, Taiwan, Poland and throughout the United States.
"I love to dance and to entertain," he says. "That would be a very satisfying career for me."
For now Peters has been concentrating on spring practice and mentoring younger players, and looking forward to the upcoming season. His parents, Phyllis and Leonard, never miss a game. And he's excited about the trip to Alabama.
"I've never been there," he says. "But I've heard about the atmosphere, and the exposure for us will be great."
Asked about his favorite moments at UH, and the answer is vintage Peters:
"I love when we get way up in a game and the second and third team guys get to play," he says. "I love it - I get crazy."
Most Recent Comment(s):