The Best Way To Choose A Champ?

By
.(JavaScript must be enabled to view this email address)
Friday - April 20, 2011
|
Share

Del.icio.us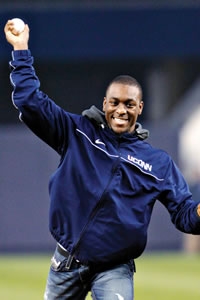 UConn star Kemba Walker, who announced last week he's leaving early for the NBA, throws out the first pitch at Yankee Stadium April 13. AP photo
With the NBA playoffs underway, one national commentator remarked that professional basketball is the only sport that properly selects its champion.
I beg to differ. While the NBA post-season is undoubtedly exciting, how is it better than college basketball's March Madness or the NFL's Super Bowl?
NBA playoff proponents say a best-of-seven series finds the better team. In theory this lessens the chances of an upset, although you could say it means that you've merely found the best team on four nights rather than one.
Is there something inherently noble in finding that the best team in the regular season is also the eventual champion? There isn't, not to me anyway. A true champion has to be able to win when the pressure is ratcheted up, the scrutiny sharpest and stakes are highest. I don't see the obsession with the meaningful regular season. Its importance is to promote improvement and improve one's post-season position or seed. Is that too insignificant? I don't need the front-runners to always be in front to enjoy the prospect of a good old-fashioned upset.
* It's the time of year when underclassmen need to decide whether or not to jump to the pros. Duke's Coach K and Connecticut's Jim Calhoun have sent their stars off with their blessings. And for good reason. Duke's Kyrie Irving and UConn's Kemba Walker will be definite first-round choices receiving guaranteed money.
It is more problematic when someone such as Butler's Shelvin Mack decided to turn pro. Mack was not even a first-team Horizon Conference selection, although he came up big in the NCAA tournament. Even so, he is considered a late first-round or early second-round guy. Second-rounders don't get guaranteed contracts, meaning if Mack is taken then and doesn't make a team, he is unemployed with no money. Seems a big gamble when he could stay in school, play another year, earn a degree and maybe improve his stock. Add to that the possibility of an extended lockout - because compared to the NFL, the NBA has real problems.
* Another Masters has come and gone, and the man wearing the green jacket is a 26-year-old most casual fans had never heard of before last week. Charl Schwartzel became the third South African to win at Augusta, and he did so in spectacular fashion, becoming the first to win by making birdie on the last four holes.
But Schwartzel is no stranger to the golf world, and was widely regarded as one of the really solid young international players.
As for Tiger Woods, he looked like the Tiger of old during a Sunday charge that earned him a share of the lead. Many felt that his fine play was undermined by a terse, graceless post-match interview. To me, the interview questions were terrible, and Tiger has never been a good loser. That doesn't look like it's going to change anytime soon.
Most Recent Comment(s):