The power of sports for troops in Iraq

By
.(JavaScript must be enabled to view this email address)
Friday - July 06, 2007
|
Share

Del.icio.us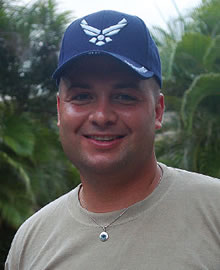 Capt. Eddie Besta
I met Air Force Capt. Eddie Besta in the spring of 1997.We were introduced at Player's, the now defunct sports bar on Alakea Street. A couple of New York transplants, we got together to watch our baseball teams on satellite. Eddie is a Yankees fan; I root for the Mets. Like most native New Yorkers, we each had opinions and observations about both teams.
He was enlisted then, taking classes at HPU in addition to his job at Hickam. He later got his degree and was commissioned as an officer. When he got posted to Korea we stayed in touch, and when he was sent to Altus, Okla., he'd drive up to Tulsa or down to Dallas for UH basketball games and I'd put him to work keeping stats. He was courtside at both UH conference tournament championships in Tulsa.
After returning to Hawaii for two years, where the friendship born in sports deepened, he was sent to Iraq. Bedtime prayers at our house ended with "and please take care of Uncle Eddie in the war."
He came back safely and was shipped to Tucson, and we stayed in touch long distance.
He's on leave now before heading for a yearlong assignment in Iraq - again. He came to our house last week with his date so we could grill some steaks and catch up. The conversation jumped around a lot. It was Derek Jeter and the Green Zone, Willie Randolph and IEDs,cold bats in New York and anxiety-ridden convoys in Baghdad. I could tell he's not crazy about going back to Iraq, but he's a soldier, and like all of our men and women in the services he gets his orders and he follows them.
But how does he deal with the stress?
"A lot of us will gather around and listen to Armed Forces Radio or follow our teams on the Internet," says Besta, 36. "It's your best connection to home."
Most of the 150,000 troops will return safely from Iraq, but every trip of 10 miles is a cause for concern.
"You wouldn't believe the planning for a trip shorter than Hawaii Kai to downtown,"says Besta."The route and departure time are secret to the last minute.When the convoy rolls, every bridge and every parked car gets your stomach churning. It's a stressful way to work."
He tells me he will be following UH football and Colt Brennan on the Internet.
"For a lot of us, sports sort of helps keep you sane," says Besta.
At the end of the evening, we walk outside into the cool trades in my secure neighborhood, conscious that he won't have this feeling again for at least a year.
"Don't worry," he says,"the Yanks will be back. Maybe not this year, but soon."
I'm not worried, at least not about that.
Vaya con Dios, amigo.
It looks like Michelle Wie is suffering from PMS - as in physical, mental and swing. Clearly her wrist is not right. It's time to lay off until she's able to play without the pain. The mental part concerns Wie's level of confidence, thoroughly shot after 23 consecutive rounds over par. And the swing, retooled by golf guru David Leadbetter, has lost all of its rhythm and grace. Designed to allow her to hit the ball harder, she is now actually shorter and less accurate. It's time to get serious about salvaging what was considered the most promising career in golf just a year ago.
At this point it's painful to watch.
Most Recent Comment(s):
For all comments click here.