The Quarterback's Family Fans

By
.(JavaScript must be enabled to view this email address)
Friday - December 02, 2005
|
Share

Del.icio.us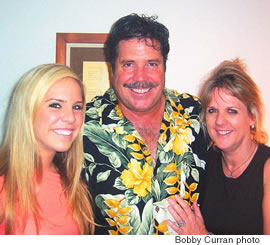 Sister Chanel, dad Terry and mom Betsy Brennan
made the trip from California to cheer on UH
quarterback Colt Brennan
It's minutes before kickoff and the nerves are taut, the adrenaline is surging and the butterflies have the stomach rolling to a point just short of nausea.
A coach?
A key player?
No, these are the afflictions of the parents who watch from the stands, and it may be the toughest job in the stadium.
It's the Friday after Thanksgiving and the Brennan family prepares to watch UH quarterback Colt Brennan at Aloha Stadium in a game against the Wisconsin Badgers. Terry Brennan, Colt's dad, and Betsy, his mom, along with younger sister Chanel have all made the trip from Irvine, Calif., for the game. It's a routine that has been going on since Colt played in the Junior Pee Wees at the age of 8. Only Colt's older sister, Carrera, has not journeyed over for the game. It must, you think, get easier over time.
"Not really," says Terry. "At each level up there is so much more riding on it, and so many more people affected by it, it just gets tougher."
Terry Brennan is hard-core. From the time Colt started playing until this season, he believes he missed one game but can't remember which one. This year, despite working in Southern California, Brennan the elder had made all but two games, both played in Honolulu.
"I worry about injury and the fact that Colt is the triggerman in the offense. When he was little I used to tell him to just get the snap," says Brennan. "But now obviously, there's a whole lot more to it."
For mother Betsy, every game makes her nervous. "I am afraid he'll get hurt. Sometimes when he gets hit, I'm holding my breath 'til he gets up. And I want him to do well. I can't even watch Terry during the game because he's an emotional wreck. It's very stressful."
Daughter Chanel, a high school senior, worries more about her father than her brother.
"He's so intense," says Chanel. "It's really sick." Spoken like a true 17-year-old.
Despite the stress, there have been some great moments during Colt's career.
"When he was at Mater Dei, they were playing Bishop Amat," says Terry. "Mater Dei was way down, and suddenly the whole team seemed to step up at once, and they made a huge comeback, and Colt threw the winning touchdown late - that was a great one."
And the whole family enjoyed seeing Colt play against his former high school teammate Matt Leinart, the Heisman trophy winning QB at No. 1-ranked USC. "That was great," says Betsy. "Matt is a terrific kid, and the family is great too. That was a special day."
But there are many games left to play in Colt's career, many stress-filled days to be gotten through.
Of Terry, Betsy says, "He doesn't sleep much the night before games. It's almost not fun."
Terry, however, takes it in stride.
"No, I don't sleep much the night before," the QB's dad says. "There's an awful lot to think about."
I hate to tell the Brennans this, but if Colt continues to improve, they may be facing the same routine for another decade or so.
Most Recent Comment(s):