The Real Lowdown On Lojeski

By
.(JavaScript must be enabled to view this email address)
Friday - November 25, 2005
|
Share

Del.icio.us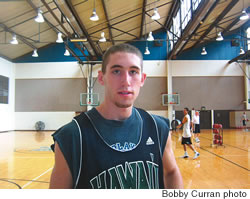 Matt Lojeski was also recruited as a baseball
player
You have to watch him awhile. At first, he's just another player - a long, lean, 6 feet 5 inches.
Then you see him knock down a three, cause a deflection at the other end, feed an assist to a player underneath. Takes good care of the ball, gets after the backboards, the kind of player about whom you say with surprise at game's end, "He had 23?"
Meet Matt Lojeski, the latest in a long line of University of Hawaii shooting guards, and one whose arrival in the Islands might seem unlikely. Lojeski is a native of Racine, Wis., and if it was up to his father, Thomas, he might be doing his athletic work on a baseball diamond.
"My father is the American Legion coach in our town," says Lojeski. "I played shortstop and centerfield. He thought I'd have a better chance of making it in the pros in baseball."
A two-sport star at St. Catherine's in Racine, Lojeski attracted as much interest from college coaches in baseball as basketball, but basketball was his first love. As a partial qualifier out of high school, Lojeski headed for Eastern Wyoming Junior College, where he was the leading scorer at the National Junior College Tournament in Hutchinson, Kan., as a freshman.
"Marquette, Pepperdine and Utah State were talking to me," says Lojeski. "But I'd have to red-shirt because I was a partial (qualifier)."
Lojeski decided to play a second year at Eastern Wyoming. UH assistant coach Jackson Wheeler took note of his J.C. tournament performance, and realized that Lojeski's coach had been the assistant of his friend at Salt Lake CC.
"A lot of people thought Matt would decide after his second season," says Wheeler. "But I knew the coach, so I got up there, and then was the first in the door at his family home. We basically had him committed before any of the others realized he might sign in the early period."
When Lojeski arrived in Manoa, the coaches knew he could play, but maybe not that he could be this good. "He's a player who does everything well," says UH head coach Riley Wallace. "Probably not great at any one thing, but a great feel for the game. He can shoot it, handle it, board and really works on defense. And, he's very coachable."
Lojeski is more than ready for the season to get under way. Michigan State was about double the biggest crowd he'd ever played for, and he was looking forward to that.
But he's also aware that Division I is a different game.
"The pace of the game is so much faster and the number of big guys is unbelievable. In junior college there might be one 6-foot-8-inch (player) per team," says Lojeski. "But here there's four of five guys that big on the court at the same time."
Lojeski can laugh now thinking back on his recruiting trip to Hawaii; he got sick and could-n't enjoy much of the Islands. But he's happy with his decision.
"This is the right place for me," says Lojeski.
And his father?
"He's real supportive. And my brother David, a high school senior, is a better baseball player than me and might get drafted," Lojeski says with a smile.
"So everybody's happy."
Most Recent Comment(s):