The Remaking Of A Pitcher

By
.(JavaScript must be enabled to view this email address)
Friday - April 28, 2006
|
Share

Del.icio.us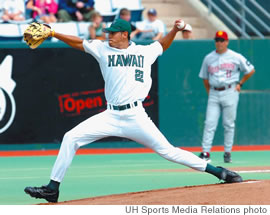 Mark Rodrigues: from thrower to pitcher
This could be a story about a volleyball player - a very good volleyball player.
Named to the all-state team his summer year at Kauai High in 2001, Mark Rodrigues had the attributes sought out by the Warrior volleyball program in an outside hitter. Good feet, great hops and a powerful swing.
The only problem was he also made all-state in baseball as a left-handed pitcher, leading Kauai High School to the KIF title in 2001, and being named KIF player of the year. And when his SAT score failed to make him eligible to play an NCAA sport immediately, the decision was made.
It has been UH baseball's gain and volleyball's loss. Drafted in the 29th round of the 2001 Major League baseball draft, Rodrigues had another decision to make. Take the money from the pros or enter junior college.
This time he had some help. His mother Caridad wanted her son to get a college degree.
"My mom pushed hard for school," says Rodrigues. "I know she's proud that I'll graduate in sociology this spring."
The road has not been easy. Rodrigues left his island home for Los Medanos Community College in Pittsburg, Calif., and played there for two years. He pitched well enough to be drafted again following the 2002 season and to draw interest from a number of Division I schools, including UH. Assistant coach Chad Konishi liked what he saw.
"We recruited Mark as a power pitcher. He was 88 mph on the gun," says Konishi. "A very hard thrower."
After accepting an offer to come to UH, Rodrigues was injured almost immediately, detaching a ligament in the elbow area that required surgery to fix. The rehab was long and painful, and Rodrigues did not pitch in either the 2004 or 2005 seasons. And he came back a very different kind of pitcher.
"He doesn't have the velocity he used to have," says Konishi. "It's coming back slowly, he has become more a pitcher and less a thrower." Currently, Rodrigues has worked his way into head coach Mike Trappasso's stable of starters, relying on three pitches: fastball, slider and change-up. Like most pitchers, Rodrigues focuses on what he needs to improve, rather than what he does well. "I'm working on getting better command of my fastball," says Rodrigues. "At this level, you've got to be able to spot it."
Coach Konishi also sees room for improvement.
"He's got to dominate against lefties," says Konishi of his lefty hurler. "But what you love is he's a tremendous athlete, with great competitiveness."
Asked about his favorite team growing up, Rodrigues admits it was the Dodgers, yet he wears No. 22 after Roger Clemens. "Yeah, I chose 22 because of Clemens, but I guess I want to be more like Andy Pettite," says Rodrigues with a smile.
When I inquire about some of the highlights of playing for the Rainbows, Rodrigues mentions that his mom and dad (Julio) can now watch all the games on TV.
And he's especially looking forward to traveling. "In two years, I haven't been on a road trip," he says. "That will be really fun."
Rodrigues is listed as a senior, but will apply for a hardship year. If it is granted, he'll pursue a master's in education and play another season at UH.
Most Recent Comment(s):