The Summer Hoops Experience

By
.(JavaScript must be enabled to view this email address)
Friday - July 30, 2005
|
Share

Del.icio.us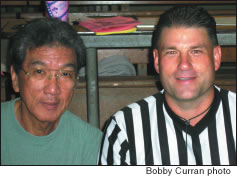 League director Pat Tanibe (left) and WAC official
Bryan Barr during a break in the basketball action
For a glimpse of Hawaii's past, present and future in basketball, you need go no further than Manoa Valley District Park for the NCAA Summer Basketball League.
Established in 1976 by Toku Matsuda and Koko Mahukona, the league has been a who's who of Hawaii's basketball elite. At a glance, you walk into the gym and see what could be any park league game witnessed by an enthusiastic gathering of friends and family. But there's a whole lot more going on.
Teams are comprised of advanced high school players, current collegians and past legends. The oldest player in the league is 35-year-old former Rainbow Warrior Tim Shepherd and, yes, it's been 14 years since he toiled for Riley Wallace.
"I've still got the bug," says Shepherd. "I can still be pretty competitive — for about 10 minutes." And Shepherd finds his presence can be useful. "You hope you can pass something on to the younger guys about what it takes to play Division 1."
The other end of the spectrum features high schoolers trying not to be overawed by competing with players they've looked up to since they first picked up a ball. Former Iolani star Kyle Pape played two seasons in the league while still in high school, boosting his confidence and his game on the way to State Player of the Year honors.
The rosters are full of players from Hawaii's colleges, and also from local players attending Mainland schools, all hoping to advance their skills for the upcoming collegiate season.
Many of the postgraduates are hoping to extend their careers by being noticed. On a recent night Austrian talent scout Reinhard Eibel was in the house, looking to fill roster spots for professional leagues in Austria, Germany, Luxembourg, Hungary and Cyprus. Eibel knows he can find talent here; he was responsible for signing former Maryknoll and Chaminade standout Francis Fletcher two decades ago. Fletcher and Eibel sit side by side in the bleachers, evaluating the crop of available players.
"There are some good ones here tonight," says Fletcher, singling out former collegians Jason Carter, Llewelyn Smalley and Leon Ballard as players on Eibel's watch list.
It is also a developmental league for coaches. Tim Thorpe is in a two-year mentoring program at UH as part of his master's degree coursework at the U.S. Sports Academy. Formerly the coach at Ko'olau Baptist Academy, Thorpe coaches Mango Moon this summer. "It's a chance to work with Division 1 level players," says Thorpe. "It's experience you can't get elsewhere." Some coaches are involved because it keeps them close to the game and they feel they have something to give.
Former UH player and current TV analyst Artie Wilson is a realtor by day and the coach of Electricians Hawaii by night.
"I've been doing this for over 10 years," says Wilson. " I try to teach a winning attitude and we often win because we get guys to buy into playing defense, at least occasionally." Wilson finds some frustration in the summer leagues, though. "I've got guys on the roster, big time players who haven't been here all year, and others who make it sometimes," Wilson says. "Guys work and go away to camp. Seems like we always end up with six or seven players."
Ask league director Pat Tanibe about the purpose of the league, and you get a surprising response. "We develop players and, equally important, officials," says Tanibe, a former referee and now a WAC observer. "High school officials want to move up to Division II, and the Division II guys want to prepare themselves for a shot at Division I."
On this sultry summer night, I'm surprised to see Hawaii-based WAC official Bryan Barr calling a game.
"This is a great way for up-and coming officials to work games featuring players who play above the rim," says Barr. "I try to help the younger officials, and I get to hone my skills as well."
The league plays every Thursday and Saturday through the Championship game on Aug. 20.
Most Recent Comment(s):
Commenting is not available in this weblog entry.