The Trouble With Drafting No. 1

By
.(JavaScript must be enabled to view this email address)
Friday - April 15, 2009
|
Share

Del.icio.us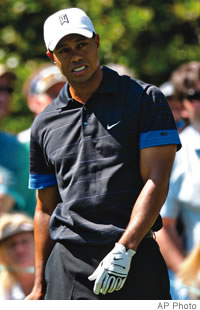 Tiger Woods: a good bet against the field
With football fans turning their attention to the upcoming NFL draft, imagine this scenario: "The Detroit Lions, with the first pick of the 2009 Draft are now on the clock." Fifteen minutes later, "The clock has now run out, and the pick passes to the St. Louis Rams, who are now on the clock." After another 15 minutes, "The clock has elapsed on St. Louis. Now the Kansas City Chiefs are on the clock."
This would have been impossible previously (well, improbable because the Minnesota Vikings did let the clock expire, but by mistake), because teams want their top draft picks.
Or do they? Not so much anymore. The first pick in the NFL draft will come with a price tag of roughly $31 million in guaranteed money. That's based on 2007 first pick Jamarcus Russell getting $29 million guaranteed, and last year's first pick Jake Long raking in $30 million. Teams are aware that roughly one out of two first picks never pan out, and in this economy no one sees a pick worth that kind of money.
Nobody wants to trade up, and Detroit is "stuck" with the first pick. Do they take Georgia QB Matthew Stafford and hope for the best? Or maybe fill a need by drafting a player likely to go lower and negotiating a discounted contract with his agent prior to the draft? Or maybe they will let the clock elapse, thereby saving a bundle and moving the burden to St. Louis.
Obviously, this is not the way the draft is intended to work.
And the solution is easy. The NFL needs a rookie salary cap, and they need it now. The owners have wanted one for some time, but late union head Gene Upshaw was dead set against it, and it never got done. Now that DeMaurice Smith is the executive director of the NFLPA, and commissioner Roger Goodell has spoken out in favor of such a cap, expect it to be a bargaining chip in the next round of labor talks.
And if the NBA is any indication, the NFL's rank and file will throw the incoming rookies under the bus in a New York nanosecond.
I don't blame them either. Why should a player who has never taken a snap receive superstar cash when proven vets are hung out to dry?
Here's a prediction: This will be the last year without a salary cap. Starting next year, the Matt Staffords of the world will have to settle for three-year deals worth $10 million to $12 million.
Doesn't your heart just bleed for them?

I'm writing on the eve of the Masters, so you'll know the results as you read this. I offered my radio producer, Alan Miya, this wager: I'll take Tiger Woods against any five players in the Masters field. If any one of them beats or ties Tiger, he wins lunch.
Whom would you have picked? I'm not sure a big name can compete with Tiger in the last couple of groups on Sunday. Better to be a young player, maybe a European or Australian, who hasn't got Tiger into his head yet.
And if you happen to be in the final group with Tiger, good luck. Just ask Sean O'Hair.
Alan's pick: Sergio Garcia, Padraig Harrington, Ernie Els, Ben Crenshaw and Phil Mickelson.
So if you see us out to lunch, you'll know who's picking up the check.
Most Recent Comment(s):