The UH athletics academic coach

By
.(JavaScript must be enabled to view this email address)
Friday - February 23, 2007
|
Share

Del.icio.us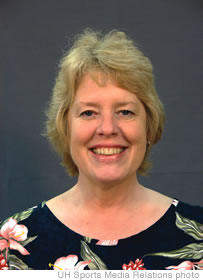 Jenny Matsuda
If you can't pass, you can't play. That's the hard fact of life in high school and college. And the huge transition from high school to college puts many freshmen at risk.
That was recognized and acted upon nine years ago at the University of Hawaii, with the completion of the Nagatani Academic Center and the introduction of a new department in the College of Arts and Sciences known as Student Athlete Academic Services.
Meet Jenny Matsuda. She is the department chair of SAAS.
"The mission is to provide academic support to student athletes to help them realize their academic goals," says Matsuda. "For some that's providing a little guidance, others need help in formulating their goal."
The process starts with orientation to help integrate student athletes into the university community. Then registration assistance is extended to make sure the right classes are obtained. Once the semester is under way, study halls are mandatory for freshmen and transfers. If a student athlete needs assistance, there is a mentoring program available to help teach study skills and time management. There are also 35-40 tutors available to help in particular academic disciplines.
For Matsuda, the job offers both challenges and satisfaction. "When you see one of these young people really start to get it and have some success, it just makes your day," says Matsuda, who oversees men's and women's volleyball and travels with men's basketball. "Some days you can improve a person's life, and that's powerful."
Matsuda says the tough part is the seemingly endless paperwork.
"We're sort of liaisons between the student athletes and their professors," she says."Once the faculty learns we're not looking for favors, they're generally great. They want these young people to succeed."
Asked if there is a particular type of student athlete likely to succeed academically, Matsuda exudes conviction."Those kids that can channel the competitiveness that makes them excellent athletes into class work do extremely well," she says. "Those that want it badly turn into superior students."
Matsuda spends her time on the road conducting study halls, practicing exams and ensuring that every stop has Internet access. She's also available to participate in study groups.
"It's amazing how much I end up learning," says Matsuda. "This year a group took Hinduism, last year it was health and wellness. I end up reading all the books and wishing I could take the classes myself."
In response to a question about this year's basketball team, Matsuda doesn't hesitate.
"Stephen Verwers is very good, but Todd Lowenthall is truly exceptional,"she says. The freshman guard had a 4.0 his first semester, exempting him from mandatory study hall. "He never misses one. If they were all like Todd, I might be out of a job, but I wouldn't have any time management issues myself," laughs Matsuda.
Most Recent Comment(s):