The Unglamorous Side Of Golf

By
.(JavaScript must be enabled to view this email address)
Friday - April 15, 2005
|
Share

Del.icio.us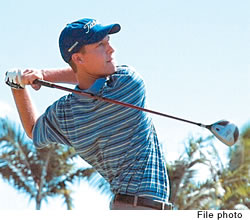 Parker McLachlin is swinging toward the PGA Tour
The lifestyle looks pretty attractive. Private jets, palatial houses, luxury cars. All of the amenities enjoyed by a Saudi prince along with the acclaim and adulation that accompany modern celebrity.
Yes, the elite in the world of professional golf live in rarefied air. Even the lower echelon PGA cardholders are becoming millionaires. If you've kept your card by finishing in the top 125 on the money list, you've made roughly $700,000 — and the purses keep going up.
But you might be surprised to find that for those working their way up the golf hierarchy, it is an altogether different experience.
Former Punahou and UCLA star Parker McLachlin would be considered a superstar golfer by any country club standard, but in the climb to the stratosphere of the sport he is in the nascent stages.
McLachlin, 25, is in his second full year as a professional. By all accounts his first year was a huge success. Three wins — one each on the Spanos, Tight Lies, and Hooter tours. And the highlight, qualifying for a spot in last year's U.S Open at Shinnecock. That, however, did not spur him to check out the prices on a Gulfstream V or to purchase a manse in a gated community. His total winnings were a shade over $90,000 and his expenses were $65,000 and change. He doesn't have as much pressure as some young pros; McLachlin has a sponsor.
"I'm sponsored by a man named Curt Breifuss, a Monterey businessman who loves golf and set up a company called TeeTime," says McLachlin. "He covers expenses for three of us. Eighty percent of the winnings go to the company and we keep the rest."
McLachlin is on the Spanos Tour, owned and operated by avid golfer and San Diego Chargers owner Alex Spanos. Success on this tour does not lead directly to the PGA. It is a chance to win some money and test yourself in the crucible of competition.
"Under the PGA tour is the Nationwide Tour, which is operated by the PGA," says McLachlin. "Each year the top 20 finishers in the Nationwide get PGA cards."
For everybody else it's off to Q school, a three-stage event considered to be one of the most grueling tasks in sports.
The first stage features 80 golfers at each of 12-14 sites. The first 20 at each site advance to the second stage, divided into six sites where the top 20 get to the third stage, which consists of six rounds. There the top 30 receive their PGA cards, the next 50 get Nationwide cards and the rest are granted conditional status on the Nationwide tour. Last year McLachlin got to the second stage.
McLachlin has good genes for athletic prowess. His father Chris has been an extremely successful high school coach, winning numerous state titles at Punahou in both volleyball and basketball, and currently is the television analyst for volleyball on K5. His mother Beth was a star player for the Wahine volleyball team.
"My father is an unbelievably positive person, " says McLachlin. "But my mother is more competitive. It doesn't matter if it's playing Monopoly, she's gonna beat you."
McLachlin married his wife, Kristy, in December and the couple live in Scottsdale Ariz., where Kristy works in advertising sales.
Every Monday at 0-dark-30, McLachlin drives from Scottsdale with another golfer to whatever California city is hosting that week's Spanos Tour event. Arrive Monday afternoon, play a practice round. The tournaments are Tuesday through Thursday.
"The first goal each week is to qualify," says McLachlin. "If you do, you're guaranteed to win at least your $800 entry fee. Then you see if you can win."
Each week McLachlin looks for friends or family to stay with — if not, it's a motel.
"This week we're in a Ramada," says McLachlin. "We're jacked because it has high speed Internet access."
Meals are burgers or subs for lunch and maybe a Macaroni Grill or Olive Garden for dinner.
"Sometimes we find a good local Mexican place," says McLachlin wistfully. Golfers carry their own bags and clean their own clubs. Equipment? McLachlin uses Titleist, except for a Taylor Made 3-wood and Odyssey Two Ball putter, provided by the companies.
However primitive his current status, McLachlin remembers well last summer's taste of the big time at the U.S Open. "I played a practice round with Phil (Mickelson). I couldn't believe how interested he was in me — really a genuine guy. He was very encouraging."
McLachlin played well, missing the cut by just four strokes.
"I learned a lot. In Open conditions, you have to follow an average shot with a great one, or you can get to double bogey in a hurry," says McLachlin.
He has a quiet confidence that makes you think the PGA tour is a matter of when, not if.
"I never give up on a round. I'm usually in the fairway and I'm a good putter," replies McLachlin to a question about his strengths.
"We'll evaluate in three to five years. I just have to keep getting better."
For McLachlin, elite company may be coming sooner rather than later.
Most Recent Comment(s):
Commenting is not available in this weblog entry.